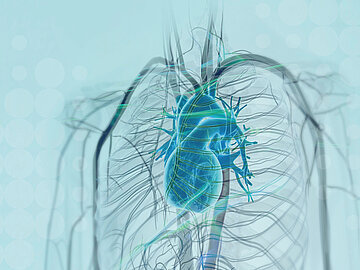 Surgical treatment of heart diseases or blood vessels near the heart

Cardio­surgery

Open or closed heart surgical procedures are part of the cardiosurgery application area and are usually vital for the patient's survival.

In cardiosurgery, physicians essentially distinguish between two forms of surgery: closed heart surgery and open heart surgery, on an open heart that has been emptied of blood and is artificially stopped. In this difficult type of procedure, the vital functions of the body must be maintained with the aid of artificial circulation.
RAUMEDIC – your experienced partner for cardiosurgery
During open heart surgeries, natural circulation to the heart and lungs needs to be interrupted and replaced for a certain period of time. RAUMEDIC has the appropriate solutions for this extracorporeal circulation. As part of this process, the ECC tubing systems take over the cardiopulmonary blood circulation in place of the patient's own cardiopulmonary circulation. Our longtime know-how in many areas of the medical and pharmaceutical industry thus achieves the best possible results for patients in the field of cardiosurgery.
Quality management
Good quality management is essential. Strict regulations require detailed documentation of product manufacturing and controls. Rely on an experienced company for this.
It's all from a single source
From the development of your initial concept to the finished solution, experienced employees support the entire process – including the service afterwards. You'll benefit from having one contact person for everything pertaining to your product.
Know-how and experience
With longtime experience in the field of polymers, customized solutions and formulations are a matter of course. Customers can also benefit from the knowledge and experience of a reliable company for product optimization.
Portfolio for open heart procedures
Learn more about the portfolio for cardiosurgery. Get to know some of the special aspects of product manufacturing and development and see the benefits and unique features of each solution for yourself.
Blood circulation tubing made with DEHP-free PVC ("noDOP")
The blood supply tubing is phthalate-free. Particularly in the medical and pharmaceutical industry, this is very important for customers, since the plasticizer is subject to the REACH regulation. Products that contain phthalates have to be labeled accordingly, as this substance has been proven to be harmful. Additional benefits and properties of the phthalate-free tubing:
Greatly reduced plasticizer migration is gentle on both blood and patients during use (on the scale of 1/100 compared to DEHP or DINCH).

The improved haemocompatibility compared to DEHP also protects the patient's blood.

Implant tests according to USP class 6 conducted on the blood supply tubing also ensure safety during patient usage.

Our own "ECC" quality grade for the critical application area of RAUMEDIC products guarantees the highest level of safety for this application.

A standard warehouse for common dimensions gives the customer absolute supply security for the product.

Product printing can also be customized as needed (brand names, identification numbers, etc.).
Silicone pump tubing
The pump tubing offers the user high pumping accuracy and consistency. Maintaining tight tolerances does not pose a problem. The tubing also offers the following benefits and properties:
The product has ideal properties as a pump segment with regard to strain and elasticity values and excellent resilience thanks to cross-linked elastomers.

Regardless of the blood temperature, the pump tubing remains soft and flexible, ensuring soft blood pulsation and minimal haemolysis.

In contact with blood, blood components adhere to the inside of the tubing, creating quasi-physiological conditions.

The product has inert material properties and no low-molecular components that could lead to undesired interactions (it is even recommended as reference material in DIN EN ISO 10993-12).

A well-equipped standard warehouse gives customers supply security.

In principle, the tubing is printed – it can even be customized as needed.

The product offers flexible options in terms of sterilization method. All common methods can be used for sterilization.
Connectors made from polycarbonate (PC)
This is where you will find the right tubing solutions for cardiosurgery along with the appropriate connectors for these products. The following benefits and properties set the connectors apart:
Supply security without delivery time thanks to a standard warehouse for common dimensions.

The product is made of PC and therefore unbreakable.

The connectors are injection molded as a single part and not glued; this ensures smooth transitions and protects from breakage.

The mold separation seams are behind the first tubing connection ring, so no air can enter the inside of the tubing.

A compact design gives the products a small surface area, which leads to fewer thromboembolic complications.
Silicone U connector
RAUMEDIC also offers U connectors made from silicone. The design of the U connector makes them gentle on blood and patients. In addition, the following benefits and properties set the U connectors apart:
The connectors are burr-free at the inner surface, making the product particularly gentle on the blood and patients.

Due to inert material properties, there are no migration and wash-out effects from the blood. In addition, the U connector does not contain any low-molecular components that can lead to interactions – it is therefore biocompatible.

RAUMEDIC customers have supply security thanks to a store of connectors in a standard warehouse.
Tubing with wire inlay
The product is equipped with one or more embedded wires (or braids). The tubing therefore has practical benefits and properties:
The wire gives the product a particularly strong bending stiffness.

The tubing is ideal for suctions, for instance.

It is possible to transmit electrical signals through the wires.
Thin-walled tubing
This solution involves individual customer products. Thin-walled tubing is suitable for several specific applications:
For example, thin-walled tubing is suitable for cannulas.

They can be made from PUR or silicone.

The product can be completely custom-made according to the customer's needs. For example, it is possible to make the tubing more kink-resistant by feeding a spiral into it.
Silicone tubing for hypothermia circulation
Compared to the standard PVC material, the silicone tubing for hypothermia circulation has one major advantage: growth of germs is much slower.
This means that under otherwise identical conditions, the water contains significantly fewer germs.

Another benefit is the supply security thanks to the standard warehouse (delivery in smaller quantities is also possible).
Oxygenator technology
Oxygenator technology involves heat exchange mats or tubing made of PUR for use in extracorporeal circulation, cardioplegia and long-term applications such as extracorporeal membrane oxygenation ECMO or ECLS. What makes the oxygenator technology so special:
The material (PUR) used for the mats and tubing is particularly gentle on blood and patient because PUR has the best blood compatibility of all thermoplastics.

In addition, there are no plasticizers in the entire oxygenator technology, so migration is not possible.

The improved thermal conductivity of PUR compared to PET enables smaller surface areas and more compact designs.

The mats can be produced in individual geometries based on customer requirements with regard to width and fiber density as well as fiber size.
Pacemaker technology
The main focus in pacemaker technology is the associated silicone adhesive, which can be used to coat implants with a hermetically sealed silicone film. These benefits and properties make pacemaker technology unique:
The adhesive can be universally processed. Implants can be dipped, sprayed, painted or precisely processed with the dosing syringe.

There are diverse application options for the silicone adhesive: Whether bonding, coating, sealing, filling, forming or insulating, it is suitable for any use.

It is a ready-made, one-component system that is immediately ready for use.

Thanks to an extensive biological qualification, the technology is suitable for many applications, even for long-term use.

An FDA master file is available.
Would you like to know more about our expertise in cardiosurgery?

Get in touch!