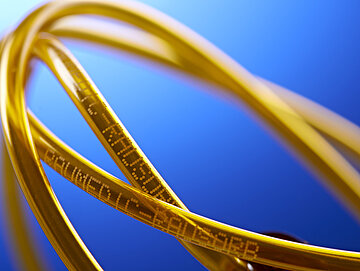 Co-Extrusion

Multilayer tubing for diverse medical applications

Co-extruded multilayer tubing provides a modern, effective and practical solution for diverse medical applications. Especially when standards and production technology of a medical system require the use of several materials.
Advantages of multilayer tubing
Multilayer extrusion of up to four materials
Exceptional compatibility with the body and the flow medium
Application-specific distribution of layer thicknesses
Multiple color and x-ray contrast stripes can be embedded
Integration of functional layers, e.g., for light protection properties or gas barrier
Use of bonding agents prevents delamination of incompatible polymers
Examples of relevant materials
Polyethylene (PE)
Polypropylene (PP)
Polyvinyl chloride (PVC)
Ethylene vinyl acetate (EVA)
Polyamide (PA)
Polyurethane (TPU)
More thermoplastic elastomers (TPE)
Examples for typical combinations (inner/middle/outer)
PE / EVA / PVC – Your all-rounder in oncology and pain management: inert & light-absorbing
TPE / Soft-PP / TPE – Connector tubes for infusion and dialysis bags: flexible & cost-efficient
PE / PUR – Your reliable companion for insulin treatment: minimal loss of active ingredients
Light Protection and Drug Compatibility
RAUMEDIC RAUSORB – for light-sensitive solutions
Physiologically harmless inner layer
Filter effect created by dyeing the outer layer
Transparent coloration allows particles and air bubbles to be detected in the tube
RAUMEDIC RAUINERT – for a dosage of sensitive drugs without loss
Practically no migration from the tube material into the solution
No loss of active ingredients through adsorption
RAUMEDIC RAUSONERT – dosage of light-sensitive solutions without loss
Advantages of RAUSORB and RAUINERT united in one tube
Tubes in the Smallest Dimensions - Micro Co-Extrusion

The so-called minimally invasive surgery is asking for increasingly complicated catheters in order to treat patients with care. Even in diagnostics, miniature tubes are used more and more due to sample quantities becoming continually smaller.
We manufacture custom-made multilayer tubing with up to four different materials. The smallest internal diameter for micro tubes that we have realized so far is around 0.1 mm [0.004 in], with an exterior diameter of 0.6 mm [0.02 in].
We would be glad to develop other dimensions together with you.
2 Materials
Application: Insulin treatment
Outstanding insulin compatibility (PE)
Transparent, flexible, solvent bondable (TPU
3 Materials
Application: Percutaneous transluminal coronary angioplasty (PTCA)
Good weldability (PA)
Lubricity and abrasion-resistance (PE)
Connection of both materials with bonding agents (layer thickness ca. 0.005 mm [0.0002 in] / 5 µm)
4 Materials
Application: Regional anesthesia
Stability for insertion and kink-resistance due to good rigidity (PA)
Local anesthetics are adsorbed only to a small degree (PA)
Good printability (TPU)
Higher flexibility after application (PUR)
Connector Tubes for Infusion and Dialysis Bags

We will combine up to three individually formulated polymeric compounds. The benefits at a glance:
Tight, secure fit of the connectors made of diverse materials such as PC and PP after autoclave treatment/ steam sterilization
No delamination of individual layers
Adhesives for bonding of connectors are not required
Processability on all current types of assembly machines
High degree of dimensional stability ensures the stability during your production process
Optimally weldable with all common market types of foil
Dimensions and material formulations according to customer requirements
Do you work under high pressure?

Are you looking for high-pressure tubes that stand up to the highest demands?
Need support? We're glad to help.

Get in touch