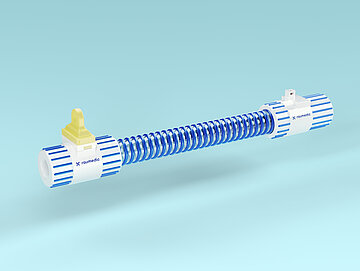 Full integrability

The Embedded Tube Connector

Our Embedded Tube Connector takes tubing technology to the next level. Building on the design know-how of the Smart Connector and the Integrated Tube Connector, the Embedded Tube Connector converts the tubing into a data conductor.
The requirement
Until now, sensor technology in medicine has been highly dependent on cables. This not only complicates the handling of tubing systems, but also presents a potential source of error. So how can an intelligent data readout be simply and reliably obtained?
The solution

We reduce the complexity of the entire system and smartify the application. The Embedded Tube Connector fully integrates the data technology into the tubing. The tubing itself takes on the role of data conductor.
The Embedded Tube Connector takes the successful combination of "electronics, sensor technology and polymer" in smart tubing a huge step further. By integrating sensors, data transmission and power supply directly into the tube material, the Embedded Tube Connector reduces the complexity of medical technology applications and systems. The manufacturing technologies developed by RAUMEDIC specifically for this purpose are both automatable and scalable, reliable and safe.
The tubing itself thus becomes a smart data conductor. The product is close to market maturity and promises to be not only a less expensive but also, above all, a more beneficial alternative to previous systems. Less cabling means more user-friendliness and, in particular, greater reliability. Sources of error can be significantly reduced by making the sensor technology a smart component in a fully integrated system.
This makes it possible to set up sensors either directly in the connector of the tubing or as a plug-in wireless solution for different measurement parameters. Thus, the sensor, which it required, can be inserted as needed, while the other sensors are sterilised in a sensor box.
The advantages at a glance:
Efficient data acquisition and power supply directly via the tubing
Tubing functionality is expanded by the additional function of smart data conductor
Less cabling means better handling and greater reliability
Fewer sources of error thanks to user-friendly design
Highly integrated sensor technology
Scalable and automatable production technology
You've got ideas? You've got questions?

Get in touch!