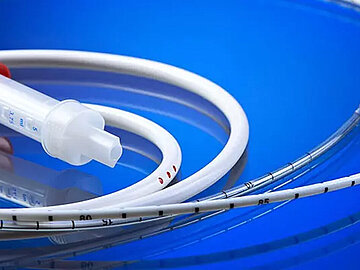 Printing and labeling of Tubing and Molded Parts

Printing and labeling techniques

RAUMEDIC tubing and molded parts can be printed using a variety of inline and offline methods.
We use physiologically safe printing inks. Suitable surface treatments, such as plasma, ensure optimum print quality and adhesion.
Pad printing
Pad printing on a feeding tube using silicone ink.
Inkjet printing
Inkjet printing on a silicone tube for use in extracorporeal circulation
Laser marking
Laser marking on a Sensile Medical AG patch pump for drug delivery.
Offset printing
Offset printing on a nasal catheter for drug delivery
Hot embossing
Hot embossing of a dose sipping device.
Individual Printed Images

We adapt the print image to your requirements: from scales (with and without numbering), company logos and production batch numbers to individual printed texts of the highest accuracy.
Need support? We're glad to help.

Get in touch