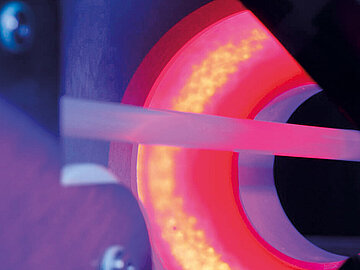 Competence and Expertise in Extrusion Technology

Extrusion of Customized Tubing for Medical and Pharmaceutical Industries

Decades of experience in extrusion of plastic materials have made RAUMEDIC to an important partner for medical and pharmaceutical industries.

As a system provider we are continuously working on the advancement of our technologies and competencies. For this reason, we have been offering the extrusion of high temperature thermoplastics, fluoropolymers and wire inlay tubing for some time.
RAUMEDIC Products are Subject to High Quality Requirements

Due to our in-house compounding and expertise in various extrusion technologies we are able to offer individualized customer solutions. A permanent high product quality can be sustained since we regularly conduct quality inspections.
In a clean room production area of about 8,000 m² (ISO class 7) large production quantities can be manufactured most accurately and reliably with the help of state-of-the-art production systems.
Need support? We're glad to help.

Get in touch