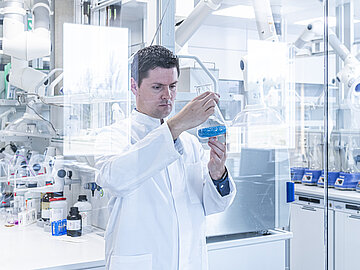 Material Develop­ment

From lab to product

Plastics intended for medical and pharmaceutical applications must meet stringent requirements. However, the numerous materials available on the market and ever-changing regulatory landscape make it difficult to keep track.

When it comes to medical-grade plastics, RAUMEDIC is the right specialist for you. Why?
Because we know the world of polymers and how to transform them. We can therefore match a material specifically to your product.
We do more

Whether silicones, thermoplastic elastomers (TPE) or biopolymers – RAUMEDIC has in-house specialists who are familiar with all the major material groups. In addition to researching, selecting and qualifying formulations, we also support complex development projects. The advantages are clear: RAUMEDIC is your single point of contact, saving you valuable resources and helping you reach your goal faster.
Pure variety
In addition to the basic materials proven in medical technology, such as soft PVC, polyolefins (HDPE, LDPE) and styrene copolymers (ABS, MABS, SAN), Raumedic processes plastics with exceptional properties into customer-specific products. For example, we use polyamides, POM, PBT/PET, fluoropolymers (FEP, PFA) or highly transparent, glass-like materials in response to very specific requirements.
Soft PVC
Polyolefins (e.g. HDPE, LDPE)
Thermoplastic Elastomers (TPE, TPU)
Styrene copolymers (ABS, MABS, SAN)
High temperature polymers (PEEK, PSU, PEI)
Performance polymers (polyamide, POM, PBT)
Specialty polymers (fluoropolymers)
High transparency polymers
Biopolymers
Silicone
Always the right solution
There is no ready-made solution for every application. Even in such cases, our material development experts will find the right material for you.
We can produce individual soft PVC formulations ourselves. In doing so, we ensure a closed material flow to rule out environmental exposure. You therefore benefit from a supply that is both flexible and secure – even during spikes in capacity.
Finding the right material with RAUMEDIC
We know the market.
RAUMEDIC has always been actively involved in the highly regulated environment of medical technology. We therefore know what is important when selecting materials for critical applications and the requirements to be met for regulatory approval (CE labeling, FDA).
We guarantee quality.
Do you need to know, for example, whether a material is suitable for an implant or pump application? Just ask us! Depending on the type of material and your requirements, we can test it for biocompatibility, pharmacopoeial or REACH compliance, SVHC, among others.
We put the material into production.
RAUMEDIC stands for practical experience in plastics and process engineering. With our state-of-the-art extrusion and injection molding equipment, we have been shaping polymers into the desired form for decades. In doing so, we can optimally evaluate both the processing properties of the material and the finished part.
We pay close attention.
Securing the supply of raw material is key. We therefore have long-standing relationships with qualified plastics suppliers and compounders whose product portfolios measure up to our medical grade policy. This also ensures traceability of the original raw material batch.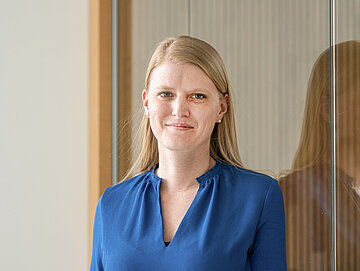 Dr. Daniela Nehfischer, Senior Materials Engineer
As medical grade materials continue to advance, the main challenge will be dealing with complexity in developing and finding the right material. The fun for my team starts exactly here, bringing together well-tried materials with innovations and new developments. I am convinced that our know-how and our motivation to find new solutions every day will be a decisive argument in the future to work with RAUMEDIC as a development partner.
Need support? We're glad to help.

Get in touch