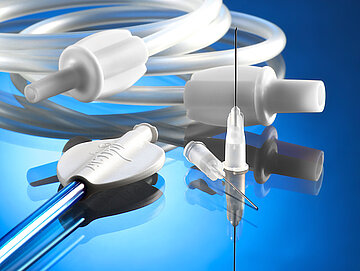 Excellent joining technology for high tightness requirements

Overmolding and insert molding

In many medical technology and pharmaceutical applications, the overmolding and insert molding processes are suitable alternatives to bonding. We use injection and overmolding of molded parts as an efficient method of optimally joining materials.

When it comes to your customized solutions, we not only meet the highest demands for the best bonding of materials and its tightness. We also take responsibility for assemblies according to customer specifications.
In the cases of overmolding, we bundle our expertise in extrusion and injection molding into a single group of components. This creates a secure connection between the individual components even when bonding is not possible.
High tensile loads and pressure tightness can be achieved by injection molding molded parts onto metal and plastic cannulas. This allows excellent handling and bond strength, especially for very small molded parts.
Advantages of overmolding and insert molding
Meeting the high requirements for tensile load and pressure tightness
Automation for high volumes
100 % camera monitoring
Customized test and inspection procedures
Qualification and validation of tools and processes according to customer specifications
Sterilization type depending on material specifications
Clean room ISO 14644, ISO class 7 (=10.000)
Quality management system according to ISO EN 13485
Luer needle for eye surgery
You've got ideas? You've got questions?

Get in touch