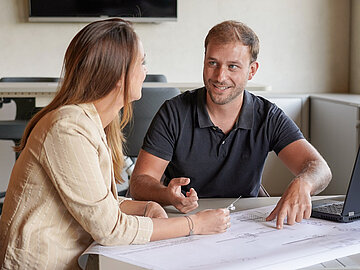 For economically product development

Clever designs and precise prototypes

Time is money. Immature designs cost both. That's why we put our product development through its paces: Using conceptual models, design and functional prototypes, we seamlessly document the progress of medical technology.
Prototypes for all common processes
For us, modern prototyping forms part of efficient design. To ensure that products are suitable for economically sound production, we complete product designs in-house, from equipment design to additive prototypes.
For our customers, this minimizes interfaces and risk: Instead of resorting to several suppliers, you get the complete package from us. As a development partner and prototype builder, we support you with services, technology, and know-how.
We offer all common processes to produce prototypes and pilot tools in-house. These include polyjet processes, stereolithography, rapid tooling, and aluminum tools.

"We are driven by our desire to become better. Our concepts and designs are coordinated with one another and designed for the variety of manufacturing options we use at RAUMEDIC to advance economically sound series production. For our customers, this means greater efficiency right from the start: fewer customization loops, shorter development times, and lower costs. All the way to the finished product that meets all requirements."
Tobias Festel,
Head of Design at RAUMEDIC
Designs made to last
Tight schedules and short development times? Our designs can withstand any pressure. We identify possible weak points at an early stage thanks to the in-depth, expert coordination at every stage of the development process.
We can react quickly and efficiently to adaptations and optimizations as a team. From CAD drawings to samples to small series, we thus offer our customers maximum security, transparency, and cost efficiency right from the development phase.
Modern prototyping
Quality, safety, and cost efficiency
Defining ideas
With the help of sketches and creative methods, such as the morphological box, all relevant parameters are first worked out that correspond to the customer's requirements to find the optimal strategy.
Components based on 3D models
Filling and warpage simulations on initial 3D models ensure production feasibility with a high level of process reliability. The findings are used to produce specific drawings for the tool shop to implement the first components.
FEM simulations
The finite element method is used to account for physical effects. Static and dynamic load analyses show whether the components' assembly is optimally coordinated and whether the components can withstand the loads in the application.
Tolerance analyses
A tolerance simulation can be used to determine at an early stage whether potential deviations are within the permissible range. Tolerance analyses provide valuable conclusions for optimally designing the assembly and its function.
Construction of tools and design of test systems
From fixtures for assembly to measuring fixtures, gauges, and test systems for monitoring flow or leak tightness, to operating equipment for extrusion or additive processes: The highest level of design services is required here.
Production of prototypes based on additive processes
The additive manufacturing of prototypes, including the follow-up work, serves the efficient implementation of demanding customer requirements before the series production. It is coordinated with the individual manufacturing methods at Raumedic.
Current product developments
Powerful implementations for our customers
Need support? We're glad to help.

Get in touch