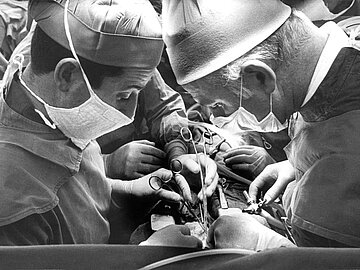 Development

Article
Reading time: 4 min
A journey through the ages
Young, but experienced – what company can say that about itself? We have been in business as an independent manufacturer of polymer components and products for the medical and pharmaceutical industry only since 2004, when we were spun off from REHAU AG + Co.
But the history of RAUMEDIC extends back much farther. In 1957, REHAU, which is an affiliated company of ours today, was supplying tubing for groundbreaking work.
First heart operation in Germany
With the help of PVC tubing, Emil Sebastian Bücherl conducted the first open-heart surgery in Germany with a new device known as the heart-lung machine. The operation was performed at the surgical clinic of the University of Göttingen, where Bücherl completed his work to become a professor two years earlier.
The surgery performed in 1957 was conducted to repair a complicated heart disease known as the Tetralogy of Fallot. This congenital defect affects the heart and nearby blood vessels, restricting blood flow to the lungs in the process.
Our tubing helped maintain the patient's vital functions during the operation.
Pioneer in medical history

Later, the native of Bavaria achieved several other milestones in medical history: At the beginning of the 1960s, Bücherl performed the first kidney transplant. A few years later, he completed the first lung transplant in Germany, a procedure that was not attempted again in the country for many years. In 1969, one of the first heart transplants done in the Federal Republic of Germany followed.
The surgeon became famous for his artificial heart that was powered by compressed air. The invention is still being refined today.
ECC tubing, yesterday and today

Let's now get back to the history of RAUMEDIC. We began to make plastic tubing that has direct contact with blood more than 60 years ago. These components were the source of a motivation that still drives us today: We want to help sick people get well and improve their quality of life.
ECC tubing remains a significant part of our business. Over the years, we have not just optimized tubing compositions. We also conduct our production operations today in state-of-the-art clean room conditions (pursuant to ISO 14644, Class 7) and live up to our commitment to use a cutting-edge production system.
Let's connect
Got any questions?
We are happy to be here for you.