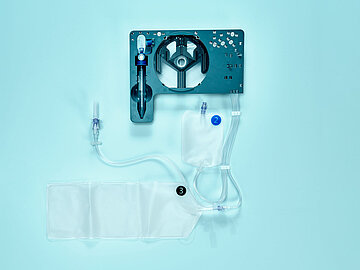 Moving Cell and Gene Therapy Forward with our Customers

Disposable cell sorting tube and bag set

We are involved in the design, development and manufacture of a polymer-based single-use tube and bag set for cell sorting. The solution is part of a larger system that uses a microfluidic device to diagnose and track cancer progression.

The tool's goal is to isolate circulating tumor cells (CTCs). It's currently relied upon by many leading research institutes fighting cancer through new methods such as cell and gene therapy.
PVC Tubing
Microextruded PVC tubing with inner diameter of 0,34mm +/-0,05mm or 0.013'' +/- 0.002''
Component variety
There are no limits to the choice of connectors
Molded Tube Management Layer
Precise tube line routing to prevent tubing defects

Motion-secured components during transport
Customized Components
Individual and functional injection molded ABS parts with US (ultrasonic) welded hydrophobic PVDF membran for filtration
Bags
For storing blood and other fluids or use in bioreactors
A multi-specialist approach: the components in detail
noDOP PVC tubing
Our noDOP (DEHP-free) PVC tubing was created for its various applications in the medical field. The use of TEHTM plasticizer exhibits a lower migration in comparison to other plasticizers and decreases the interaction with the fluid being transported.
UV stability
The absolutely invisible 'blue tint' of the PVC tubes is suitable for gas and gamma sterilization and shows a high resistance against yellowing while aging.
Tube-in-Luer connections
This alternative to common barb fittings shows a great performance in the flow-through behavior as well as high tightness and pressure resistance. Tubes are glued into the connector.
Developing a solution for life – and our customer - to move cell therapy forward.
"The success of the project was in particular achieved by creating a symbiosis with the customer's components and completing the already existing assembly into a highly functional final product. It's a testament to RAUMEDIC's flexibility and service mentality – and how we can respond to customer requests. Additionally, the project demonstrated how many years of expertise can be integrated into the design and manufacturing process itself. Last but not least, it was fulfilling to make a meaningful contribution in such an important medical field as cell therapy."
Julia Wilterius, Product Engineer at RAUMEDIC