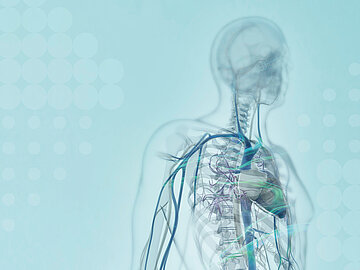 Intravenous administration of liquid drugs

Infusion

Many different clinical pictures might necessitate treatment of the patient with an infusion therapy.

In this form of therapy, water, salts and medications are fed directly into the patient's vascular system. Many clinical pictures call for this treatment. For example, physicians use infusion therapy to treat dehydrated patients as well as to handle major blood loss, attend to hypoglycemia and administer soluble drugs.
RAUMEDIC – your experienced partner for infusion
During an infusion therapy, medical specialists use infusion sets and cannulas to feed the infusion solution from bottles or bags into the patient's bloodstream through various peripheral access points. RAUMEDIC produces a wide range of specific solutions for precisely this purpose as well as supports national and international medical companies with the development and manufacture of suitable end products. Custom formulations can also be readily prepared and mixed.
It's all from a single source
You receive everything from a single source: from development work on your individual product, to specific formulations, through to production and follow-up service. You'll benefit from having one partner for all of your needs.
Custom formulations
Thanks to an in-house chemical department, new materials can be actively tested and customer-specific formulations implemented.
Reliability
Trust in know-how and experience: During the infusion, the loss of active ingredient in the tubing must be minimized as much as possible and a precise dosage must be ensured.
The portfolio for intravenous patient treatment
Learn more about the portfolio for the infusion application area. Get to know some of the special aspects of product manufacturing and development and see the unique features of each solution for yourself.
PVC tubing for custom requirements
PVC is the traditional material used for infusion tubing. Formulation of the plastic material incorporates various components, resulting in highly individual customer solutions. PVC tubing offers the following benefits and properties:
All soft-PVC granules are produced in-house. This allows completely individual formulations to be mixed to meet specific customer needs.

Different surface finishes can be implemented during production. If needed, the PVC tubing can be not only made to feel pleasant to the touch, but also finished with a high-gloss, microrough or matte surface depending on the customer's requirements.

PVC offers extensive bonding options, since the material can be glued and welded with a wide variety of solvents.

PVC tubing is flexible and highly resistant to kinking and tears.

If made with the proper formulation, the tubing can be sterilized following standard methods; by ethylene oxide (ETO), autoclaving or radiation.
Silicone tubing – ideal for pump use

Silicone tubing is particularly suitable for use as pump tubing and provides the tubing product with excellent resilience and low gliding force. Additional product properties:
RAUMEDIC offers proprietary silicone formulations for reliable pump applications.

The tubing can be manufactured with various customized shore hardnesses.

Working with the customer, the proper silicone tubing is developed for each specific application.

Abrasion-resistant printing is available.
Coextruded tubing for sensitive solutions
Coex tubing plays an important role in the infusion application area. For example, its light-protection properties and capacity to support other custom manufacturing options make it the optimal solution for many customers. These options are available for the production of tubing:
Lay-flat tubing: The variable product for bag production
The lay-flat tubing is used specifically for assembling bags for enteral feeding and infusion. Offering diverse benefits and properties, it is available in different versions:
Excellent transparency thanks to a special manufacturing process that provides medical personnel with outstanding visibility of the solution, allowing them, for example, to immediately detect contaminations in the solution.

Flexible flat widths from 100 millimeters (4 inches) and 500 millimeters (20 inches, individually adjustable according to the customer's end product.

Variable wall thicknesses from 0.10 millimeter (0.004 inches) to 0.40 millimeters (0.016 inches) to produce the bag thickness required for the end product.

Inner surface options, including textured design, longitudinal ribbing or smooth. Separation strength can also be adjusted to meet customer requirements.

Strong scratch resistance, even under extreme use.

Excellent process capability on high-speed assembly lines.

Film coloring enables specific transmission properties; these can be optimally customized to meet the respective light-protection requirements of particular food-solution manufacturers.
Indwelling venous cannula for vascular access
The indwelling venous cannula is used for vascular access on the back of the hand or the elbow. Learn about the product's specific properties:
For reliable sealing of the injection port, RAUMEDIC manufactures valve tubing using its proprietary silicone formulation with maximum stickiness.

The very narrow tolerances for hardness and dimensions guarantee reliable assembly and functionality.
Would you like to know more about our expertise in infusion?

Get in touch!