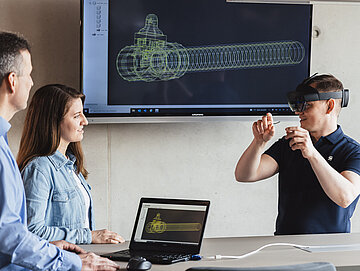 Innovation at RAUMEDIC

Leading the future


Markets and customers are becoming increasingly globalized, applications more complex, product cycles shorter. At the same time, technologies and business models are continuously developing further. The world is turning faster and faster – so too the world of medical and pharmaceutical technology.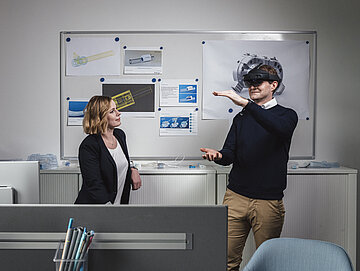 Innovation at RAUMEDIC is driven directly by the demands of the markets, the trends of our times and the inspiration of our employees. This is proven by our successful products, high-profile projects and more than 150 current patent applications. Our team is highly motivated. We encourage boldness in idea generation as an essential part of a living corporate culture: with our dynamic idea and innovation management, creative methods and an inspiring scope of freedom for development and expression.
Together with our customers, we bring innovative solutions to market maturity. Our innovations give both us and our partners in the medical and pharmaceutical industry a head start in our sector.
Our innovation goal:

To actively shape the future

We are actively participating in shaping the future with creative ideas aimed at achieving specific objectives. Our goal: satisfied customers. We find solutions for their individual challenges and contribute to progress – so that people can rely on highly functional and safe medical technology applications all around the world.
Our innovation approach:

New solutions based on experience

Innovation is an integral part of our DNA. We think in solutions and act quickly. At RAUMEDIC, we combine our know-how in material, product and process development with many years of experience in the medical and pharmaceutical industry. Satisfied customers and safe products bear witness to our success.
Our path to innovation:

The holistic promotion of creativity

We consider innovation to be a holistic approach: we specifically promote the creativity of our employees, we are familiar with the challenges of the market, and we attach great importance to the development of product solutions in close cooperation with our customers for the benefit of patients.

Together, we'll find the right way.
We look forward to getting to know you.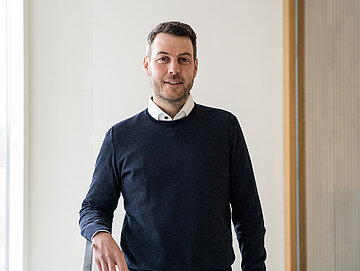 Dr. Severin Oesterle, Innovation Manager
For us, innovations are not an end in themselves ...
... We think in terms of solutions that are greeted by our customers and patients worldwide. To this end, we apply our entire know-how to projects that we want to see safely across the finishing line. Our customers are closely involved in this process. Their individual needs are the focus of all our efforts. Very often, we proactively create solutions long before the challenges actually arise.
New methods
Innovation programs and platforms
New trends and technologies require new approaches. At RAUMEDIC, we develop innovative business ideas with the help of diverse creative and increasingly agile work methods. This not only promotes the dynamics of active collaboration, but also raises awareness of our goals and how we achieve them: in teamwork, close collaboration with the customer, and direct exchange with each other.
Innovation Kickbox
The "Kickbox" campaign at RAUMEDIC was launched in 2020. This innovation program is offered regularly for a period of several weeks to help employees use modern tools and methods so that they can independently develop their ideas into innovative solutions with business potential.
Our innovation topics:
intelligent, individual, integrated
Smartification
Integration of electronic and sensor components
In medical and pharmaceutical technology, smart products help to specialize and individualize applications.
From specific components to complex sets: you can rely on RAUMEDIC. With our team of experts for smart devices, we specialize in the customized integration of electronic and sensor components into medical technology applications at our manufacturing sites.
You've got ideas? You've got questions? Whether you are seeking an experienced development partner, or would simply like to find out more.

Get in touch!