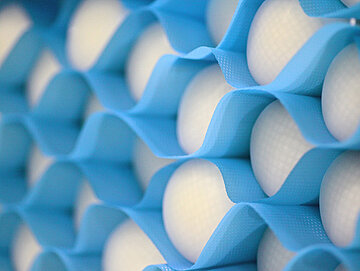 RAUMEDIC Silicone Expertise

Silicone – An Excellent Material for Clinical Applications


Silicone is a high-quality material that resists extreme mechanical requirements. Furthermore, it possesses a high purity grade for clinical applications (e.g. for implants).

The formulation used is defined by the future application purpose, in particular with respect to the cross-linker.
Processing of High Temperature Vulcanizing Silicone (HTV)

High temperature vulcanizing silicones play a very important role to RAUMEDIC. Next to platinum and peroxide silicone we also process liquid silicone rubber (LSR) in the liquid injection molding process.
Addition Curing Platinum Silicone

If your product is to be used as an implant, its purity plays a significant role. In this case, we use addition curing platinum silicone.
The platinum in the silicone functions as a catalyst during cross linking processes. In this process the silicone receives its final, elastomeric properties.
Addition curing platinum silicone is exceptionally suitable for applications with very strict requirements, since it is almost fully inert and has a profile that contains very low extractables and leachables.
The excellent biocompatibility of our silicone tubing makes it the best choice for the use in implants such as PD catheters or as tubing in the pharmaceutical fluid handling area.
Peroxide Curing Silicone
On account of its radical reaction mechanism the degree of cross linking in peroxide curing silicone is higher than in platinum silicone.
Due to stronger cross linking the recovery properties of this material when used in peristaltic or roller pumps are better than those of the platinum type. Thanks to the material's good pumping properties, tubing from peroxide silicone is used in various medical pumps.
Both material types are temperature resistant from -50°C to +200°C and retain their mechanical properties across the entire temperature range.
Applications
Pump tubing for infusions and enteral feeding
Extra corporeal circulation
Long-term implants
Due to its high degree of chemical purity (antioxidants, lubricants), silicones are also used in other pharmaceutical and biotechnology products.
Injection-molded Parts Made of Liquid Silicone Rubber (LSR)

In addition to the platinum and peroxide tubing, we have the necessary expertise to produce injection-molded parts from LSR.
Aside from molded parts such as connectors, gaskets and LSR elements can be molded directly to the tubing with the help of LIM.
Advantages:
Easy processing
Possibility of fully-automated processing of LRS
Excellent mechanical properties
LSR, being an addition cross-linked platinum silicone, has very good biocompatibility.
Need support? We're glad to help.

Get in touch