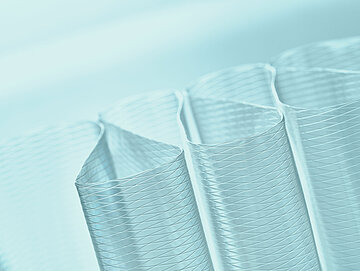 Clean by design. Easy to use. Customized.

Lay-flat tubing for infusion & nutrition bags


We manufacture lay-flat tubing exclusively from non-PVC materials suitable for biomedical applications. By default, we use an ethylene vinyl acetate copolymer (EVA, Ph. Eur. 3.1.7.), known for its high chemical resistance.

Bags made of EVA lay-flat tubing are ideal primary packaging materials, for example, for infusion and nutrient solutions in enteral and parenteral nutrition (tube feeding, intravenous nutrition therapy).
Clean by design
Biocompatible, highly transparent and scratch-resistant material
Blown film extrusion in Class 7 clean room using HEPA-filtered air for inflation
Made under 100% in-line machine vision inspection
Tube ends are closed by welding, keeping the inside of the bag hygienic, even under unwanted static electricity
Easy to use
Can feed high-speed, fully automated production lines, reducing cost and time in medical bag manufacturing
Special winding process reduces wrinkling of edges
Inner surface textures help the walls of the bag to separate during filling
Customized
Inner surface can either be smooth or textured by customizable ribbing
Available with RAUSORB technology to protect light-sensitive contents
Flexible widths from 4″ to 20″ (100 mm to 500 mm)
Variable wall thicknesses from 0.004″ to 0.016″ (0.10 mm to 0.40 mm)
The material of choice for medical and pharmaceutical bag production

Within the scope of type testing, biocompatibility evaluations have been performed e.g., cytotoxicity (ISO 10993-5) and hemolysis (ISO 10993-4), making EVA material components a suitable option for medical bag manufacturing, e.g. IV bags.
Need support? We're glad to help.

Get in touch