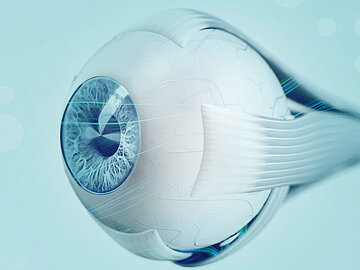 Protecting people's vision

Ophthal­mological solutions

Humans use their sense of sight to take in much of the environment that surrounds them. Millions of sensory cells on the retina enable us to see the world in which we live.

Vision disorders and pathological alterations in the eye can be successfully treated by modern ophthalmology. No matter whether the issue is a refractive process or an operation on the front or rear section of the eye – RAUMEDIC helps physicians around the world achieve optimal results for their patients by offering a wide range of plastic components and systems.
Safety for patients and users
Our top priorities for polymeric solutions used in ophthalmology are precision, cleanliness, and material quality. After all, people are entrusting us with their eyesight.
We know plastic.
We are experts when it comes to the material qualities of a wide range of plastics. For your individual solution as well as for product optimization, we can select from a broad range of medical-grade polymers and silicones.
We are here for you.
From the initial idea to the finished product, we support our customers during the entire development process. We take into account the specific customer requirements instead of offering only standard solutions.
We produce in clean rooms.
Extrusion, injection molding, and assembly – RAUMEDIC produces under clean room conditions (ISO 14644, Class 7).
A selection from our ophthalmology portfolio
Injectors for IOL applications
For implantation of preloaded and semi-preloaded intraocular lenses (IOL)
A particularly lubricative inner-channel for reliable lens transport
Extremely soft silicone plunger in the inner cartridge tip provides additional protection to the lens
Comfortable handling through single-handed pressure injection
Tubing system for femtosecond lasers
For reliable fixation of the eye during laser-supported cataract operations
Suction ring made of silicone (LSR) for increased comfort
Simplified handling thanks to silicone tubing
Comprehensive quality control by means of flow, tightness and visual tests
Transport-secure, sterile packaging in hard blister packs
Test chambers
For tests of the suction/irrigation device and for calibration of the ultrasonic handpiece
Made of medical-grade silicone
Tubing set for LASIK treatment with a microkeratome
Processing and assembly of various tubes and molded components
Customizable thanks to printing on the tubing
EtO sterilization possible
Ready to use thanks to pouch packaging
Silicone sleeves for cataract operations
For stabilization of the vitreous body
Individual, freely designable perforation forms (geometry, size, position) for optimal flow of the irrigation fluid
For various incision sizes, including micro-incisions
Production in various silicone types (LSR, HCR) possible
Various degrees of transparency and colors possible
A comparison of RAUMEDIC cutting technology
Burr-free finish thanks to precise 90° cutting technology and 100% camera control
Optimal concentricity without misalignment
Observance of strict tolerances
Would you like to know more about our expertise in ophthalmology?

Get in touch with us