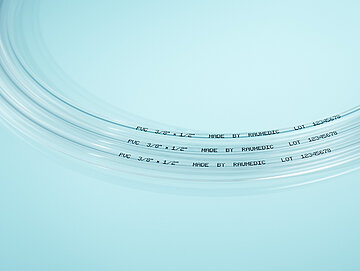 Optimized Tubing for Pharma & Biopharma

PVC Tubing for Pharma Fluid Handling Applications

PVC tubing by RAUMEDIC is a durable and chemical-resistant and biocompatible tubing material, specially formulated for secure fluid transfer. It finds widespread application in:
aseptic filling and dispensing systems
diagnostic equipment
laboratory analytical instrumentation
cell and tissue culture transport
laboratory research
Our PVC tubing is a well-established and dependable option for a variety of pharmaceutical and biopharmaceutical fluid handling needs. It is trusted by (bio)pharmaceutical companies worldwide.
Made for Pharma, Biopharma and Biotech:
Why single-use PVC tubing is a good choice for fluid processing
Our PVC fluid management tubing is biocompatible, which means it is unlikely to cause an adverse reaction when it comes into contact with biological tissues or fluids.
In general, PVC is resistant to a wide range of chemicals, including acids, bases, salts, and various solvents. This is crucial in biopharma applications where a variety of substances may come into contact with the tubing.
Further, PVC tubing is highly flexible, which allows for easier handling and installation. It can be easily put to fit into complex configurations. With additional connectors, even the most complex setups are possible.
RAUMEDIC's PVC tubing is transparent, which allows for easy visual inspection of the fluid flowing through it. This is particularly important in the biopharma processes where the integrity of the fluid is critical.
Meeting Global Standards
ISO 3826-1 & USP 661 Compliant
Biocompatible for Biopharma
ISO 10993-4 & -5 | USP 88 Class VI
Material Compliance Assured
FDA, REACH, ROHS Compliant
Biocompatibility: Unlikely to cause adverse reactions with biological tissues or fluids.
Chemical Resistance: Resistant to acids, bases, salts, and various solvents.
Flexibility: Highly flexible for easy handling and installation.
Clarity and Transparency: Allows visual inspection of fluid integrity.
Sterilizability: Can be sterilized via autoclaving, gamma irradiation, or ethylene oxide gas.
Cost-effectiveness: More affordable than alternatives like silicone or fluoropolymers.
Availability: Short delivery times of standard dimensions
Product availability and supply for single-use PVC tubing
Ensure a seamless supply of PVC tubing with RAUMEDIC's proven multi-sourcing approach. We depend on a robust network of suppliers to guarantee a high level of supply chain security for our PVC compound, making it the go-to choice for dependable thermoplastic pharma tubing production.
Serving Pharma and Biopharma
As a family-owned corporation with a global presence and five production sites in three countries, RAUMEDIC places significant emphasis on long-lasting relationships with suppliers and customers alike. Our dedication to cooperative ventures and alliances within the sectors we serve to has established us as a trusted provider of pharma tubing in the pharmaceutical and biopharmaceutical industries for decades.
Global Support, Tailored Solutions
Get it quickly: Prompt delivery schedules

Global Manufacturing: Operating in diverse locations (EU & USA)

70+ Years of Expertise: Specialized in polymer tubing

Trusted Partnerships: Long-standing collaborations with material suppliers and tubing customers
Secure Supply Chain, Proven Strategy
Strategic Sourcing: Demonstrated history of enduring supplier contracts
Diverse Supply Chain: Extensive network ensures reliability
Worldwide Reach: Global storage and distribution network for tubing
Precise Batch Tracking
Comprehensive Traceability: Every ingredient tracked at each stage
Continuous Tracing: Always accessible records
Transparent Accountability: Commitment to openness and responsibility
PVC pharma fluid handling tubing in standard dimensions
RAUMEDIC, a leading tubing specialist, provides PVC pharma tubing in standard sizes for quick delivery. Our standard tubing offerings encompass the commonly requested dimensions for pharma fluid handling and bioprocessing operationbs. Additional sizes may be accommodated upon request.
Choose from unprinted PVC tubing, RAUMEDIC branded printing, or opt for a customized design.
Find dimension for single-use PVC tubing below!
Tubing Dimensions and Type Overview
Dimension
IDxOD
Tolerances
Coil length [m]
Inner diameter [mm]
Outer diameter (*WT) [mm]
1/16" x 3/16"
1,6 mm x 4,8 mm
ID 1,54 - 1,66 mm
OD 4,64 - 4,96 mm
900 m
3/32" x 5/32"
2,4 mm x 4,0 mm
ID 2,33 - 2,47 mm
OD 3,90 - 4,10 mm
500 m
1/8" x 3/16"
3,2 mm x 4,8 mm
ID 3,10 - 3,30 mm
OD 4,64 - 4,96 mm
900 m
1/8" x 1/4"
3,2 mm x 6,4 mm
ID 3,10 - 3,30 mm
OD 6,18 - 6,62 mm
500 m
5/32" x 7/32"
3,9 mm x 5,7 mm
ID 3,80 - 3,95 mm
OD 5,60 - 5,80 mm
650 m
5/32" x 9/32"
4,0 mm x 7,2 mm
ID 3,90 - 4,10 mm
OD 7,08 - 7,24 mm
300 m
1/5" x 9/32"
5,0 mm x 7,2 mm
ID 4,90 - 5,10 mm
OD 7,10 - 7,30 mm
380 m
1/4" x 5/16"
6,4 mm x 7,9 mm
ID 6,28 - 6,52 mm
OD 7,85 - 8,15 mm
300 m
1/4" x 3/8"
6,4 mm x 9,5 mm
ID 6,20 - 6,40 mm
OD 9,20 - 9,50 mm
200 m
3/8" x 1/2"
9,5 mm x 12,7 mm
ID 9,44 - 9,76 mm
OD 12,48 - 12,92 mm
100 m
3/8" x 9/16"
9,5 mm x 14,3 mm
ID 9,20 - 9,65 mm
*WT 2,25 - 2,50 mm
100 m
1/2" x 11/16"
12,7 mm x 17,4 mm
ID 12,40 - 12,80 mm
OD 17,00 - 17,60 mm
100 m
Quality Assurance: ISO 13485 Certified Standards
Reliably safe quality standards for PVC tubing
RAUMEDIC, a tubing specialist since more than 70 years, is known for its commitment to delivering first-class products and services to the medical and pharmaceutical industries.
Incorporating comprehensive quality management systems in the production of our single-use fluid processing tubing, we guarantee adherence to the most rigorous industry benchmarks, ensuring quality, traceability, and consistency at every step.
Our dedication to cGMP compliance and certified excellence means that customers can rely on RAUMEDIC for consistently reproducible, high-quality PVC tubing, batch after batch.
For verification, our ISO 13485 certification is available here.
Further reasons for relying on RAUMEDIC as your supplier for PVC pharma tubing
Certified material compliance
Versatility in PVC manufacturing
ISO 7 clean room
Manufactured under clean room conditions
Do you have any questions?

Contact us