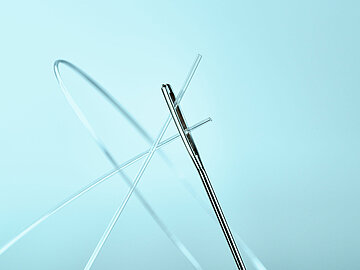 Medical technology microextrusion

Sophisticated tubing in the smallest dimensions

Micro tubing, such as microcatheters and peripheral indwelling venous cannulas, are used in highly sensitive microfluidics, pediatrics, or even microanalytics.

Using the microextrusion process, we at RAUMEDIC manufacture customized microtubes in dimensions of up to 0.10 mm (100 micrometers) inside diameter and wall thicknesses of approx. 0.05 mm (50 micrometers).
Diverse materials for optimized properties
We extrude microtubes both from the common materials polyurethane (PUR) and polyamide (PA) and from high-temperature thermoplastics such as PEEK, PEI, and FEP, which can be used at temperatures of up to 300 °C.
High chemical resistance, bending stiffness, UV stability, physiological compatibility, and sterilization capability characterize these high-temperature materials. Our extrusion technology makes the coextrusion of up to four different materials possible.
What we offer:
Internal diameters from 0.10 mm
Wall thicknesses from 0.05 mm
Tightest tolerances from +/- 0.02 mm
Microlayers with layer thickness up to 0.005 mm
Can be combined up to four layers
All common thermoplastics up to high temperature materials can be selected
X-ray contrast stripes are possible
Need support? We're glad to help.

Get in touch