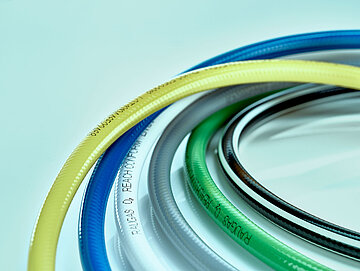 Highest quality according to DIN EN ISO 5359

Medical gas supply tubing

Medical gas supply tubing designed and manufactured by RAUMEDIC optimizes essential respiratory, anesthesia and emergency equipment. The interior tubing and the outer layer are connected in such a way that the tubing-relevant criteria according to DIN EN 5359 are fully met.

This is reliably ensured by the thread reinforcement made of polymeric materials embedded between the two layers. It provides special bursting pressure resistance of our gas supply and ventilation tubing.
RAUGAS® - quality tubing for maximum safety
We manufacture RAUGAS® tubing specifically to your specifications on request. Special formulation configurations as well as electroconductive designs of the inner layer are possible.
Alternatively, you can choose from a reliable selection of standard products.
Contact us and we'll design a solution for you. What about security? RAUMEDIC gas supply tubing is comprehensively tested for all requirements for tubing according to DIN EN ISO 5359:2018:
Axial tensile forces
Deformation under pressure
Resistance to occlusion
Bending radius
Adhesion of printing
Gas type
Vacuum
(VAC)
Air
Oxygen
(O2)
Nitrous oxide
(N2O)
Carbon dioxide
(CO2)
Universal
Color coding in accordance with the norm
Yellow
Black & White
White
Blue
Gray
Black
All RAUGAS® tubes are BPA- and phthalate-free and comply with the requirements of the European REACH Regulation.
Need support? We're glad to help.

Get in touch