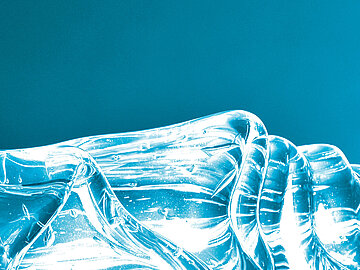 Be ahead of the game thanks to an outstanding polymer

Silicone injection molding

Our know-how in silicone processing is as comprehensive as it is specialized. Our silicone products ensure medical progress in cardiosurgery, ophthalmology, transplantation medicine, and drug and vaccine supply.

We use silicone injection molding to shape ideas into customized system solutions for our customers. We combine the optimum choice of materials with application-oriented design and high-precision tools.

Our production environment, specially set up to meet the requirements of silicone injection molding, allows automated production with multi-cavity molds, short cycle times, and the lowest reject rates.
Outstanding chemical and physical properties
Outstanding resistance to high temperatures up to approx. +250°C
Outstanding resistance to low temperatures down to approx. −40°C without loss of elasticity
Very good ageing resistance
Excellent sealing function
Low compression set
High permanent elasticity
High level of design freedom with regard to industrial production
Variations in wall thickness without negative visual impact
Undercuts can be reproduced through forced ejection from mold
High degree of biocompatibility
Suitable for contact with blood
Very well tolerated by the skin
Excellent extractables profile (smallest amounts of extractables substances)
All common sterilization processes are possible
RAUMEDIC as a silicone injection molding expert
Competence
Decades of silicone material expertise, both in extrusion and in molding
Support for our customers, starting from the idea through product- and process development up to industrial manufacturing
Customized prototype production, small-scale production and fully automated large-scale production
Precision molded parts starting with a weight per piece of 0.008 g and very narrow tolerances
Thin walled and highly elastic molded parts with minimum wall thicknesses < 0.20 mm and minimum hardnesses of 10 Shore A
Technology
Liquid silicone rubber (LSR) and high-consistency silicone rubber (HCR) processing
2K injection molding, both silicone/silicone and silicone/thermoplastics
Insert molding and overmolding of extruded silicone tubing with silicone molded parts
The value-added process occurs as per GMP guidelines under clean room conditions according to ISO class 7
Service
Further finishing and assembly of your silicone molded parts into system components
Customer-specific qualification and validation of the tools and processes
Measurements and tests in our own laboratory
Certification according to ISO 13485
Certification according to primary packaging standard DIN EN ISO 15378
Silicone Syringe Plungers
Silicone syringe plungers are applied in pre-filled syringe systems in order to guarantee the integrity of the drug. Enjoy the benefits of an integral adjustment to your syringe system. Due to the selection of the optimal silicone type, the silicone plunger shows only minimal breakaway forces and dynamic frictional forces, as well as no stick-slip effect at all.
Pump segments
Pump segments are used for the administration of medication or liquid nutrition in dosing pumps. Next to a constant flow rate, there are more functions that can be integrated into the device, such as a membrane for pressure monitoring.
Thin Walled Components
Thin walled components with smallest wall thicknesses of down to 0.10 mm are applied in inhalation systems for the transportation of aerosols, for example. The fixing elements tailored to your system are directly overmolded in order to enable a form-fitting and friction-locked integration.
Sealing Elements
In the medical and pharmaceutical industry silicone seals are applied in injection and infusion systems, for example. They preserve the integrity of the drug in primary packaging. The sealing elements are tailormade to suit your system with regards to torque, tolerance compensation, insertion forces, pull-off forces, spring forces and restoring forces as well as the ventilation of your system.
Need support? We're glad to help.

Get in touch