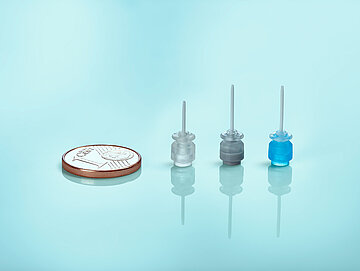 Modern drug delivery

Soft cannula "cast in one piece"

As a development partner and manufacturer of complete insulin pump systems, we at RAUMEDIC continue to increase the safety of the drug channel. Our latest development is the soft cannula. It can be manufactured by extrusion and thermoplastic and silicone injection molding processes.

With the single-cast cannula, we reduce the number of individual components and the complexity of the manufacturing process. Needle insertion systems thus become less vulnerable because the drug tubing and cannula are manufactured as self-contained components. This eliminates the need for critical interfaces. The high demands on the tightness of the system can already be met in one production step.
Uniquely efficient development
Our patent-pending development of the soft cannula is so far unique on the market. It enhances the fluidic pathway, the drug channel, in its important interface function between the pump and the human body thanks to more safety and lower manufacturing costs of the needle insertion system.
More safety and comfort
The co-extruded microtube with an inert inner layer ensures better drug compatibility. The siliconized hypodermic needle inserted in the soft cannula helps to reduce the patient's pain sensation. All of the above makes insulin administration easier, safer, and more convenient.
Higher leak tightness security from the beginning
No functionally critical interfaces between the tube and the cannula
Fewer process steps in manufacturing
30 to 50 % lower component costs
40 to 60 % lower investment costs for tools and processes
Need support? We're glad to help.

Get in touch