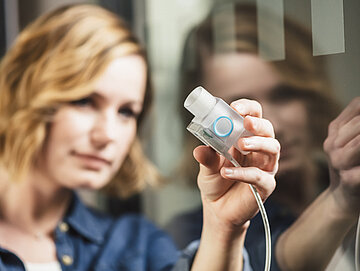 Smart­ification

Integration of electronic and sensor components

We develop tubing components and systems further and make them "smart" – for greater functionality, a high level of user-friendliness, and future-oriented.
Smart tubing for new possibilities
The clever combination of "electronics, sensor technology and polymers" in tubing and connectors opens up completely new possibilities for digitalizing and optimizing medical technology products.
We can impressively integrate electronic and sensor technology into the smallest device components, such as neuromonitoring or ICP measurement catheters, for example. Our miniature camera tubing has also long borne witness to our expertise in integrated technologies.
With our smart tubing components, we now go one step further. Drawing on our know-how in micro- and assembly technology, we develop new ideas for tubing developments that help modern medical technology achieve greater reliability, efficiency and transparency.
Innovative connectors for intelligent tubing systems
Sensor Array
The RAUMEDIC sensor mat is based on pixel-like arranged force sensors, which can be customized in their geometries, number, and performance parameters. We see exciting applications for this innovative matrix of sensor points, e.g., in filling processes in the pharmaceutical industry.
Not only is it possible to monitor the size, shape, and position of drug bags in their current actual state, as well as the correct unfolding of the bags and thus the filling and emptying processes, but it is also possible to monitor the fill level precisely. Critical conditions such as overstretching can also be detected. Leakages and temperatures, among other things, can be detected by adding additional sensor points.
By means of the Raumedic control and evaluation electronics, the recorded measurement data can be directly evaluated close to the sensor, processed, and transmitted to comprehensive process systems.
You've got ideas? You've got questions?

Get in touch!