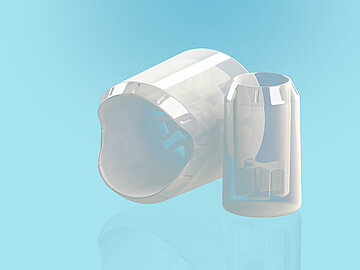 RAUMEDIC Cupcake

Simplified gingival retraction process

A tangible advance for dentists and patients worldwide: The "RAUMEDIC cupcake" gingival expander facilitates the preparation of dental reconstructions.
Straightforward sleeve technology
Gingival retraction methods are used in dentistry to make epigingival or subgingival preparation margins temporarily accessible. The gums are dilated after periodontal pretreatment. This allows impression materials to be attached to exposed or isolated tooth areas to the best possible extent.
The "RAUMEDIC cupcake" gingival expander simplifies the treatment. Inserting the cupcake, a sleeve that can be precisely placed, is much less complicated and time-consuming than the conventional two-thread method.
The conventional two-thread technique is particularly time-consuming. For the complicated placement of threads alone, dentists in Germany spend an estimated 900,000 hours each year.
The medical gingival expander "RAUMEDIC cupcake" minimizes the time required from dentists and patients and reduces the risk of injuries and infections.
Reduced effort and more safety
Savings in cost and time
No time-consuming application of retraction threads: up to 50 times faster than the two-thread method
Minimizing risk: no damage to the gums or subsequent infections
Efficiency: Simple and ready for immediate use, also in combination with an intraoral scanner
Precise impression-taking after opening the gingival sulcus
Four steps to precise impression-taking
After grinding, set up on the ground tooth/tooth stump
Exposing the sulcus by occlusion
Removing the RAUMEDIC cupcake
Rounding off the impression material and taking the impression
Need support? We're glad to help.

Get in touch