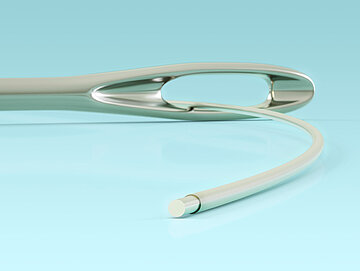 Medical tubing as smart systems

Polymer and Wire Coextrusion


Medical technology is facing major challenges. Increasingly smarter and customized applications require the smallest possible components and broad know-how. As a development partner, we are helping to shape this path. For example, by using coextruded wires in medical technology and pharmaceutical tubing.
Wire Coating and Wire Inlay:
This is How Your Tubing Can Become a Data Transmitter
We combine nitinol, platinum alloys, or copper and stainless steel wires with various polymers. We also use high-temperature thermoplastics such as PEEK, FEP, and thermoplastic PTFE. With our team of experts for smart devices, we also specialize in customized integration of electronic and sensor components in medical technology applications.
Smart catheters, for example, offer functions for data transmission from within and on the patient. This makes it possible, among other things, to measure various parameters such as temperature, pressure, oxygen content, pH, the concentration of a certain number of ions or metabolic parameters.
Coated Micro Cables and Wires
What we offer:
Ultra thin layer thicknesses starting from 0.01 mm (0.0004″)
Wire diameters from 0.025 mm to 1.5 mm (0.001″ to 0.059″)
Dimensions and materials are fully customizable
Application examples
Guide wires
Micro cables, e.g. for forwarding signals in catheters
Corrosion protection for wires
Pacemaker electrodes
Liner for the extrusion of thin walled tubing
Wire inlays
Embedded in the wall, the wire stabilizes the tube or acts as a data transmitter.
What we offer:
Possibility to fully embed several wires in the wall
Wall thicknesses from 0.5 mm
Wire diameters from 0.06 mm to 1 mm
Dimensions and materials are customizable
Examples of applications and functions
Application examples
Malleable suction cannulas
Nerve stimulation
Steerable endoscope
Signal forwarding in catheters with measuring functions
In collaboration with you we develop a product tailored to your requirements.
Have You Ever Heard of Intelligent Catheters?

Intelligent catheters offer functions with data transmission features inside and on the patient. They enable the measuring of subsequently listed parameters:
Temperature
Pressure
Oxygen content
pH-value
Concentration of a specified ion count
Measurement of metabolic parameters
Need support? We're glad to help.

Get in touch