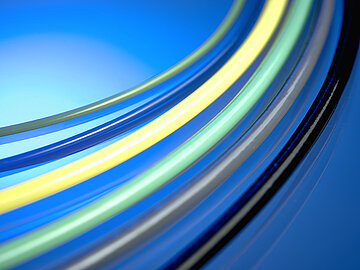 High Performance Plastics
High performance plastics such as PEEK, PEI, PSU, FEP and PFA are characterized by their extraordinary properties in various areas. High performance plastics are primarily used where highest demands are placed on the mechanics, the chemical or thermal resistance or on the slippage of the products. PEEK, in particular, is an excellent metal substitute for medical applications where the biocompatibility of the material is important.
An example of high requirements on the plastic represents the multiple sterilisation cycle with hot steam which is usually only possible with metal-based materials. The extremely high pressure requirements for thin walled extrusions can only be met by using high performance plastics, too.
Fluoropolymers

Fluoropolymers such as FEP and PFA also belong to the category of high performance plastics. These fluoropolymers are very resistant to nearly all chemical compounds and solvents. Distinguishing features of FEP and PFA are their excellent sliding characteristic and very good biocompatibility.
RAUMEDIC processes a wide range of thermoplastic fluoropolymers. We produce coils and fixed lengths for your required dimensions, which are ideally suited for their respective purposes. In addition, we can incorporate X-ray stripes in different numbers and shapes, or offer full contrast tubing.
Need support? We're glad to help.

Get in touch