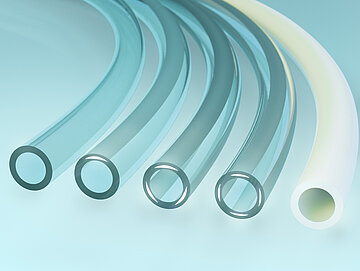 Peripheral indwelling venous cannulas for parenteral infusion

Indwelling venous catheter

Indwelling venous cannulas are used for administering drugs or fluids, for example, nutrition solutions, to patients parenterally using infusion. Cannulas are also used for total intravenous anesthesia and for taking blood samples.

As a development partner for system solutions, RAUMEDIC produces many essential components for indwelling venous cannulas, from catheters with tailored tip geometries to valve tubing and protection tubes.
We manufacture our indwelling venous catheters in different sizes and shore hardness – always tailored to the requirements of our customers. Thanks to co-extrusion technology, we can combine different plastics to give the indwelling venous catheter very specific qualities.
To achieve good kink resistance, we co-extrude a harder polymer outer layer with a softer inner layer. This type of multilayer extrusion also allows us to selectively influence the sliding properties of the catheter during later use.
You define the parameters of your specific indwelling venous catheter, and we implement it to your requirements. Bending stiffness, kink resistance, shrinkage values, sliding ability, or shore hardness? Our material experts are very familiar with all medical-grade plastics.
Versions
Standard version with up to 4 X-ray contrast stripes
More X-ray contrast stripes on request
In full contrast
Materials
PUR
Fluoropolymers such as thermoplastic PTFE, FEP or PFA
For vein protection during indwelling times and straightforward injections
Our material experts are familiar with the full range of medical-grade plastics. The benefit to you: you define the parameters of your specific IV catheter and we implement it to your requirements:
Bending stiffness & kink resistance
Shrinkage rates
Slippage
Shore hardness
Tailored tip geometry
Irrespective of the version you decide upon – our expertise in tip forming allows us to implement the catheter tip just the way you want it.
What we offer:
Processing of different tube sizes and wall thicknesses
Different tip geometries (e.g. open, closed)
Very easy to insert for painless cannulation
Length and radius of the tip form are individually definable
Silicone valve tubing
Many indwelling venous cannulas are fitted with an injection port via which an additional drug can be administered to the patient intravenously. A silicone valve tubing is inserted inside the cannula to seal this opening and prevent leakages and contamination. The sealing tubes can be purchased from us on spools or as bundles.
Dimensions
Outer diameter from 3.5 mm to 4.3 mm (0.138″ to 0.169″)
Outer diameter within very tight production tolerances of well under 0.10 mm (0.004″) in total for reliable assembly and functionality
Wall thicknesses from 0.5 mm to 0.8 mm (0.02″ to 0.031″)
Material
Silicone formulations developed in-house with maximum adhesiveness for secure sealing of the injection port
Shore hardnesses between 40A and 60A
Color to suit customer's requirements
Do you also need the right needle protection for your IV cannula? RAUMEDIC has your requirements covered. Just get in touch!
Need support? We're glad to help.

Get in touch