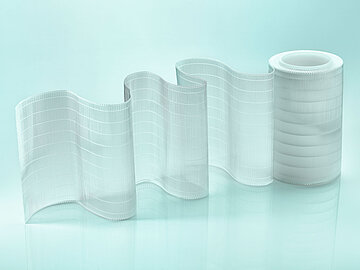 Polyurethane high-tech for oxygenators

Heat exchange mat

For decades RAUMEDIC tubing has proven its value in systems and pumps for extracorporeal circulation (ECC). Back in 1957, we delivered our PVC and silicone tubing for the first German heart surgery, where a heart-lung machine was used.

We continue to develop product and system solutions for sophisticated oxygenator technology in the ECC area, for ECMO and cardioplegia. RAUMEDIC expertise also does a great job inside an oxygenator in the form of a heat exchange mat.

Our heat exchange mat consists of the blood-compatible material polyurethane (PUR). Compared with PET, which was frequently used in the past, the thermal conductivity of hollow fibers, and with it the efficiency, is increased by approx. 25 %.
Advantages of the heat exchange mat made of PUR
Excellent blood compatibility
Blood flow is possible inside or outside the hollow fibers
PUR has higher thermal conductivity coefficient, making shorter sizes possible
Lower priming volume and pressure drop
Mat structure is adjustable
All mat widths up to 185 mm are available
Along with the two standard sizes with external diameters of 0.6 and 0.8 mm, all other hollow fiber diameters can be made.
Packaging Options

As another unique feature, we offer two other packaging options besides the mat. This allows for the implementation of new processing options.
Mat rolled on spools, customized to your requirements.
Fibers as fixed lengths (bundled).
Both, the length of the hollow fibers and their number, can be freely chosen by the customer. The module can be constructed directly from this bundle.
Hollow fibers by the meter, rolled on spools for individual processing by the oxygenator manufacturer.
Need support? We're glad to help.

Get in touch