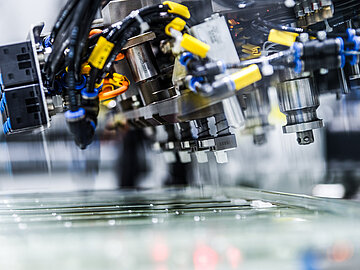 From manual to fully automated assembly.

Assembly. Flexible and scalable.


When it comes to products for medical or pharmaceutical applications, quality is crucial. The more complex the solution, the more intricate the end-to-end control process. After all, the journey of a product from procurement of the individual components to final sterilization is a long one.

Outsourcing assembly processes can therefore be a worthwhile consideration, especially as it reduces not only your own risk but also your coordination costs and efforts. RAUMEDIC offers a wide range of services to meet your assembly requirements, thus allowing you to concentrate fully on your core business.
Manual, semi and fully automated assembly processes – at your service

Whether you wish to outsource individual work steps or are seeking a full-service partner for the development and serial production of your CE-certified medical device – Raumedic is always ready to support you. We offer manual production of small-batch orders or fully automated processing of your "high runners" in large quantities. Straightforward or highly complex – we can design the ideal manufacturing process to suit your product.
Manual Assembly
Whether small series or complex products with numerous components, they can be placed safely in the hands of our team.
Semi-automated Assembly
Semi-automated processes offer greater efficiency and safety when manual assembly has reached its limits.
Fully-automated Assembly
Automated production equipment for handling large series offers a high output for your project. Integrated test processes guarantee automated quality assurance throughout.
High-level reliability, low-level risk

Our design-to-manufacturing approach offers reliability right from the very start of product development. To optimize the manufacturing phase, we already start configuring your product at the prototyping stage. As your development partner, we advise you on process engineering issues; as a manufacturer, we focus on sustainable process optimization. Intelligent workstations, for example, can guide operators through the assembly process and in this way increase process reliability.
From straightforward to highly complex

We devote as much attention to basic work steps, such as the bonding of individual components, as we do to the assembly of highly complex products, such as tubing sets composed of several hundred components requiring correspondingly meticulous control measures.
Technology know-how
Discover RAUMEDIC's extensive technology know-how in the secondary processing of polymer materials:
Patch pump for Sensile Medical AG
A highly complex system produced and assembled completely in-house.
One process step, for example, is the semi-automatic siliconization of the needle and reservoir.
Tubing set for transplantation medicine
As a full-service provider, we have the capacity to not only assemble more than 200 individual components, but also offer customized packaging and sterilization.
Smart products
Manual integration of three different sensor types for measuring pressure, temperature and oxygen partial pressure under the microscope.
Long-term implant in peritoneal dialysis
This product's special feature is the shaping of the silicone catheter in manual assembly.
Dual-chambered syringe
Fully automated assembly with 100% camera control and sterile packaging in nest and tub. Ready-to-use for filling by the customer.
Assembly services and beyond

Design-to-manufacture approach
Optimized design of our products during the development stage for future serial production, regardless of whether customer-specific parts or standard components are used.
Technological diversity
Our in-house technologies enable us to not only assemble your product but also customize individual tubing and molded parts for final assembly.
Solution-oriented
Our expertise in process engineering development helps solve your challenges.
Full-service provider
If desired, we can support you in process, sterilization, packaging, or transport validation. This allows you to fully concentrate on your core business.
Need support? We're glad to help.

Get in touch