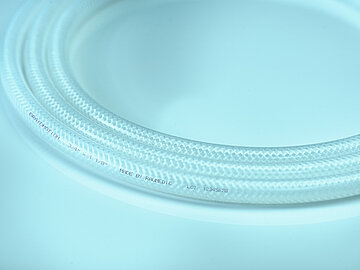 First Class Tubing for Pharma & Biopharma

Braided High Pressure Silicone Tubing BRAIDMOTION for Pharma Fluid Handling Applications

BRAIDMOTION braided high-pressure silicone (SIL) tubing by Raumedic is a highly pressure resistant platinum-cured silicone tubing for pharma fluid handling applications, specifically designed to withstand high amounts of pressure while being very flexible and kink-resistant at the same time.

The tubing is reinforced with medical grade PET mesh material, making it the ideal choice for facilitating highly pressurized fluid transfers in the pharmaceutical and biopharmaceutical industries.

Reasons why braided tubing is valued for fluid transfers:
Enhanced strength
Pressure resistance
Great flexibility
High temperature resistance
Biocompatible
Our braided SIL tubing has earned a proven reputation as the industry's preferred option for a wide range of fluid handling operations. It is trusted and relied upon by pharmaceutical companies worldwide for its exceptional performance in high-pressure fluid transfers.
Why you should choose RAUMEDIC as your supplier for braided silicone pharma tubing
Optimized for high performance under pressure
Up to 60 bar: High pressure resistant fluid handling tubing
RAUMEDIC's braided silicone pharma tubing BRAIDMOTION offers all the advantage of our regular SIL tubing – combined with a high-pressure resistance of up to 60 bar.
Our platinum cured silicone ensures a dependable, precise, and consistently secure transfer of fluids. Reinforced with medical grade PET mesh, the braided tubing is highly pressure resistant, making it a trusted choice for applications in pharmaceutical, laboratory, and biotechnological fluid handling applications.
Silicone that's platinum cured
No peroxide-cured tubing
Optimized for pressure resistance
Withstanding pressure of up to 60 bar
Very low number of extractables
Low extractables values with braided SIL
The best choice of materials: Silicone tubing of exceptional purity for pharmaceutical fluid handling.
RAUMEDIC's braided silicone pharma tubing BRAIDMOTION is crafted from Silicone SIK8649, a top-grade silicone compound renowned for its high purity and tailored for pharmaceutical and biopharmaceutical applications.
We take high pressure tubing safety one step further: RAUMEDIC's integrated multi-filament polyester yarn is of medical grade PET, making it suitable and safe for pharma applications with its excellent leachables and extractables profile.
Braided silicone tubing presents significant advantages for pharma and biopharma companies, including exceptional resistance to high pressure, resistance to kinking, flexibility, and overall durability. Chemically speaking, SIK8649 is an additioncross-linked hot vulcanisate based on vinyl methyl dimethyl polysiloxane using silicic acid fillers and a platinum catalyst.
Shore Hardness A (60)
No deterioration or loss of integrity of chemical or physiological properties at temperatures ranging from -20°C (-4 °F) to +135 °C (+275 °F)
Short-term use up to 200°C possible after validation by the customer
Excellent resistance to water up to 100 °C (+212 °F) and to low-pressure steam up to 135 °C (+275 °F)
Strong resistance to weak acids and alkalis
Sterilization possible with gas, steam, gamma or X-rays
Standards Compliant
Fulfills requirements of the European Pharmacopoeia 3.1.9.
Fulfills requirements of FDA regulation 21CFR, § 177.2600 and § 177.2800.
Biocompatible
Printing ISO 10993-5 tested
USP 85, USP 87 and USP 88 class VI tested
No animal derived materials (BSE/TSE risk-free)
BPOG tested extractable profile
BPOG-studied extractable profile
Extractable profile exceeds regulatory expectations
Leading the future of silicone tubing
Patented & only available from RAUMEDIC: Low-Tack Surface for Silicone Tubing
RAUMEDIC's biopharma silicone tubing – including braided tubing - incorporates the unique Low-Tack surface treatment, which is protected by a patent.
Following the extrusion process, the SIL fluid handling tubing undergoes a specialized LowTack method where a distinct coating is applied to its outer surface.
Benefits of the patented Low-Tack surface treatment:
1. Better pumping properties
Gliding force significantly lower
Much less strain at the point of contact with the pump.
Longer tubing lifespan due to reduced wear and lower material abrasion
2. Improved handling
Enhanced sliding properties compared to conventional pharma tubing
Tubing surface less sticky - making secondary processing, assembly and packaging easier.
3. Minimized impurities
Reduced particle adhesion on the surface of the tubing
Significantly reduced possibility of impurities
4. Printable via inkjet method
Braided tubing is printable – unlike most silicone tubing in the market
Inkjet printing is safer and cleaner than roller printing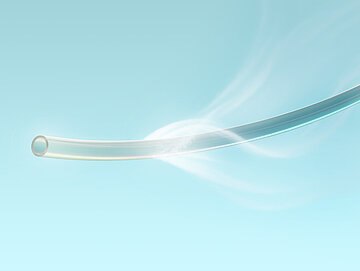 High Pressure Fluid Handling Tubing Performance
Tested and trusted under high pressure:
Braided Silicone Tubing for Fluid Handling
RAUMEDIC's braided platinum-cured silicone tubing BRAIDMOTION is renowned for its exceptional quality. Our braided tubing delivers on the vital requirements of extended pump longevity, precise flow rates, and impeccable accuracy – under pressure of up to 60 bar due to integrated and medical grade PET mesh.
RAUMEDIC's SIL tubing demonstrates exceptional test results. It delivers enhanced performance and steadfast safety under the demanding conditions of a peristaltic roller pump.
For further insights into the remarkable functionality test results of RAUMEDIC's silicone pharma fluid handling tubing, kindly request our comprehensive validation package.
Outstanding High Pressure Test Results
Braided Silicone Pharma Tubing withstands pressure of up to 60 bar (ISO 1402 tested).
Longevity under Pumping Lifetime
Enhanced pumping lifetime under the rigorous use of a peristaltic roller pump.
Flow Rate Optimized
Consistent and reliable flow rates for shorter processing times.
Product supply and availability
To maximize customer benefits, RAUMEDIC has implemented a multi-sourcing approach for Pharma Grade Silicone (SIK8649). By leveraging a vast and dependable supplier network, RAUMEDIC ensures the utmost level of supply security.
Offering worldwide customers both flexibility and reliability
Operating from multiple production sites in the EU and USA.

Building upon a successful track record spanning over 70 years.

Nurturing long-term partnerships with suppliers and customers.
Ensuring security of supply through multiple sources
Cultivating enduring partnerships and contracts with material suppliers.

Maintaining a highly diversified supply chain to ensure uninterrupted manufacturing.

Leveraging a global network of storage facilities and warehouses.
Ensuring batch traceability
Implementing traceability for every ingredient and process step.
Enabling continuous tracing capabilities.
Living a culture of transparency and accountability.
Serving pharma and biopharma as a true industry partner for tubing
RAUMEDIC is a trusted partner for the pharmaceutical industry, providing reliable fluid handling solutions. With a global presence across five production sites in three countries, we prioritize cultivating long-term relationships with suppliers and customers. Our commitment to strategic collaboration has earned us the trust of the pharmaceutical and biopharmaceutical industries as a polymer specialist and supplier of pharma tubing. We are dedicated to delivering high-quality products and exceptional service to drive your business forward.
In stock and ready to be delivered to your doors
Braided silicone pharma fluid handling tubing BRAIDMOTION in standard dimensions
RAUMEDIC offers braided SIL tubing in commonly requested standardized dimensions for fluid handling and bioprocessing applications. Additional dimensions can be provided upon request.
Additionally, RAUMEDIC provides the option of unprinted tubing, standardized printing, or customized printing. We also maintain stocks of tubing for immediate availability.
Dimensions in inches: 1/8" x 0,355" (ID x OD) to 1" x 1-3/8" (ID x OD)
Dimension in millimeters: 3,2 mm x 9,0 mm (ID x OD) to 25,4 mm x 34,9 mm (ID x OD)
Further dimensions upon request.
The color of the tubing is natural without addition of color pigments.
Braided tubing includes a medical-grade multi-filament polyester yarn.
Have your high pressure resistant silicone pharma tubing printed – if you want.
Unprinted
Standardized Printing
Customized Printing
Dimensions available for SIL braided tubing
Tubing Dimensions, Type and Part Numbers Overview
Dimension
IDxOD
Tolerances
Coil length [m]
Printed / non-printed
Article code
Inner diameter [mm]
Wall thickness [mm]
1/8" x 0,355"
3,2 mm x 9,0 mm
2,70 - 3,2
2,70 - 3,2
25
printed
807710-800
1/4" x 1/2"
6,4 mm x 12,7 mm
5,85 - 6,45
2,90 - 3,50
15
printed
807711-800
3/8" x 5/8"
9,5 mm x 15,9 mm
9,05 - 9,75
2,90 - 3,50
15
printed
807712-800
1/2" x 7/8"
12,7 mm x 22,2 mm
12,20 - 13,00
4,30 - 5,10
15
printed
807713-800
3/4" x 1-1/8"
19,1 mm x 28,6 mm
18,30 - 19,50
4,30 - 5,30
10
printed
807714-800
1" x 1-3/8"
25,4 mm x 34,9 mm
24,70 - 26,10
4,30 - 5,30
7,5
printed
807715-800
Quality Assurance - ISO 13485
Dedicated to Quality
With a proven track record of over 70 years, RAUMEDIC consistently delivers excellence by upholding the highest standards in the production of top-quality products and services for the medical and pharmaceutical industry.

Throughout every step of our braided silicone pharma tubing manufacturing processes, we have implemented comprehensive quality management systems. These systems are meticulously designed to ensure unwavering quality, traceability, and adherence to the most stringent industry standards.

By choosing RAUMEDIC, you can rest assured that our silicone tubing not only conforms to cGMP standards but also exhibits unparalleled quality, resulting in consistent batch-to-batch reproducibility.

We are proud to be certified according to ISO 13485, a testament to our commitment to maintaining the highest quality standards. You can find the respective certificate in our validation guide for platinum-cured, high-pressure resitant braided silicone (SIL) tubing.

To delve deeper into our validation processes and discover the assurance we offer, please request our comprehensive validation guide.
Full Validation Document
To make it as easy as possible for you, we offer you a fully comprehensive validation package.
Package contains:
General properties
Information about shelf life and storage
Material Compliance
Full Test Results
Documentation and Certificates
Don't hesitate to contact us, we will be pleased to serve you.
More reasons to rely on RAUMEDIC's silicone pharma tubing
Patented low-tack surface
Improved pumping properties & reduced stickiness
Certified material compliance
High purity platinum-cured silicone that exceeds industry standards
Biocompatible
Optimized for safety and performance
ISO 7 clean room
Manufactured under clean room conditions
Do you have any questions or want to get our validation package?

Contact us