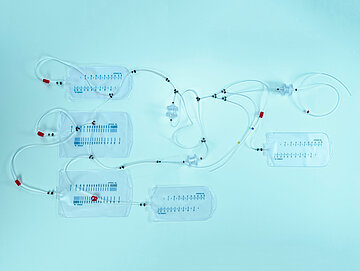 Solutions for Life in Cell and Gene Therapy

Complex Tube and Bag Set for the Isolation and Modification of Cells

As a full-service partner for polymeric product solutions in cell and gene therapy, we developed, manufactured, and assembled a set for cell isolation and modification of cells
Project summary
For the isolation and modification of cells with a device from a customer, RAUMEDIC supplied the fully assembled complex tube and bag set, including individually sterilized packaging.
As the tube and bag set is truly complex, a total of 50 connections were required. However, these connections could not be glued without impairing the functionality of the customer-specific substance. Thus, tube clamps were used as the most suitable solution.
Further, due to the set's critical application in clinical practice, the entire manufacturing process was carried out in compliance with highly demanding tolerance requirements. The set then was assembled at and by RAUMEDIC.
Finally, the set was packaged in blisters and aluminum foil bags and gamma sterilized.
Drip Chamber
For filtering blood and retaining customer specific substances
Made of ABS
Ultrasonically welded components, incl. filter mat
Welded Tube Ending
Possibility for sterile welded joints
Tubing
UV and light protected tubing (RAUSORB)
Tubing with a biocompatible inner layer (RAUINERT)
Connectors
Y connectors
T connectors
3-way connectors
Bags
For storing blood and other fluids or use in bioreactors
Pump tubing elements
To pump the fluid optimized in the desired direction
Clamps
For opening and closing the fluidic path
A multi-specialist approach: the components in detail
Tubing compatible with specific substances
The tubing was specifically developed to meet customer-specified requirements of being compatible with specific substances. This was achieved through the combination of two patented processes featuring light protection and an interaction-free lumen.
Special tubing: biocompatible inner layer, UV and light protected
The transparent outer layer of our RAUSORB tubing prevents protein denaturation by UV light or light. Further, we integrated our RAUINERT tubing with an interaction-free inner layer that prevents adhesion, allowing more cells survive the cell manufacturing process.
Solvent-resistant Printing
Our advanced printing technology is designed to withstand exposure to various solvents, safeguarding critical information on this tube and bag set from fading or erasing, ensuring safety and proper handling.
Special Connection Components
For a secure and efficient connection between different parts of the set, we relied upon welding, plugging and clamping technologies – demonstrating a wide range of connection methods to meet the specific requirements of this project.
Customer-specific molded parts
Customer-specific molded parts, such as drip chambers, allowed for the creation of components that are tailored to the specific needs of the customer, enhancing the functionality and efficiency of the tube and bag set.
Customer-specific Bags
With our expertise in clean welding of storage bags, we integrated customer-specific bags due to special connections.
Developing a solution for life – and our customer - to move cell therapy forward.
"This project has demonstrated the whole breadth and depth of our capabilities. We could help our customer from the initial consultation to the finished product. Whether it was about selecting the right materials, developing a cost-effective yet functional product design or manufacturing and assembly. Serving our customer as a single source provider showcased perfectly that what we can accomplish by working together with our industry partners."
Dominik Schmutzler, Product Engineer at RAUMEDIC
FAQ: The function of Raumedic's complex tube and bag set in cell therapy
What's the role of this polymer tube and bag set in cell therapy?
For isolation and modification of cells with a customer device, RAUMEDIC supplies the fully assembled, individually sterile-packed tube and bag set showcased here.
What are the most important components of the tube and bag set?
The set includes bags and filters (bought in) as well as PVC and silicone tubing from RAUMEDIC. The drop chamber made of ABS is closed on one side, a filter mat is welded in which is filled with a customer-specific substance, and then covered with another two filter mats – and finally ultrasonically welded.
The set includes lots of tubing and bags. How are they connected?
A total of 50 connections are required, which cannot be glued so as not to impair the functionality of the customer-specific substance, but are connected with crimp terminals (Oetiker terminals).