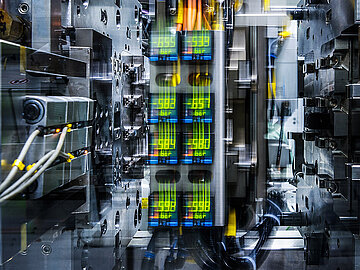 One-stop Development and Production of Components

Injection Molding – High-precision Plastic Molded Parts


Our core expertise in injection molding is the production of individual system solutions for the medical and pharmaceutical industry. The tiniest of dimensions, narrowest of tolerances and highest functional demands are requirements that we are able to master due to our experience gathered over many years.
Individuality in Consultation and Efficiency in Production
Custom-made products ask for differentiated approaches and customized advice. We take into consideration a design of molded parts that is appropriate to the injection molding technique and to the optimum cost effectiveness for manufacturing methods. Our experienced design engineers, product designers and process engineers are looking forward to meet your challenges.
We can produce your desired module in its entirety thanks to the interaction between our injection molding expertise and know-how in development, materials, extrusion and assembly.
Need support? We're glad to help.

Get in touch