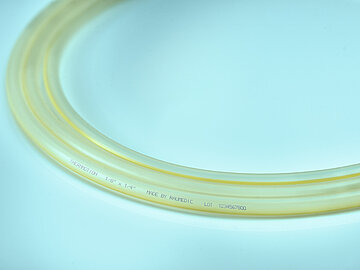 Optimized for cell growth

THERMMOTION TPE Tubing for Pharma Fluid Handling Applications

THERMMOTION TPE pharma fluid tubing by RAUMEDIC is a highly resistant, weldable and sealable tubing based on thermoplastic elastomers (TPE), specifically designed for the safe transfer of fluid in the pharmaceutical and biopharmaceutical industry.

RAUMEDIC's THERMMOTION TPE pharma tubing is designed for biopharma processes, allowing for aseptic tubing connection and disconnection without the need for connectors (e.g., sampling). It is also suitable for use in peristaltic pump applications.

THERMMOTION TPE tubing for fluid handling applications is most commonly used for:
Aseptic transfers of fluids
Peristaltic pump applications
Sampling
Biopharmaceutical Processes (such as cell culture, fermentation, and purification)
Our TPE tubing is trusted by the market for a wide range of pharmaceutical and biopharmaceutical fluid handling applications, relied upon by (bio)pharmaceutical companies worldwide.
Benefits of selecting RAUMEDIC as your partner for TPE pharma tubing
Weldable and sealable: THERMMOTION TPE Pharma Fluid Handling Tubing by RAUMEDIC
Optimized for Cell Growth Rates & Performance
When it comes to the consistent, accurate, and reliably safe transfer of sensitive fluids, RAUMEDIC's THERMMOTION TPE pharma tubing stands out as a trusted choice in the market. Our tubing is based on TPE, a highly versatile material, making it the ideal solution for a wide range of (bio)pharmaceutical, laboratory, and biotechnology applications.
With RAUMEDIC, you can rely on the excellent performance of our TPE pharma tubing for your fluid handling needs.
TPE tubing specifically optimized for better cell growth rates
An ideal tube for biopharma fluid handling applications
Certified material compliance
Irgafos 168 free TPE that exceeds industry standards
Very low number of extractables
Benefit from minimized quantities of extractables with RAUMEDIC TPE pharma tubing
Optimized for safety, purity and handling: THERMMOTION TPE tubing for pharma fluid handling
RAUMEDIC THERMMOTION TPE pharma tubing is made of the material grade SRT629, a high purity thermoplastic elastomer. This unique material formula was specifically chosen to serve the requirements for TPE tubing required for pharma and biopharma fluid handling applications.
Chemically speaking, RAUMEDIC TPE SRT629 is a natural, synthetic thermoplastic rubber, based on an elastomer modified polypropylene, containing synthetic oil. The chemical properties on RAUMEDIC TPE SRT629 are evaluated in accordance with ISO 3826-1. TPE tubing can be a trustworthy and cost-effective alternative to silicone tubing for some pharma fluid handling applications.
Benefit from improved sealing properties, sterilization compatibility, and regulatory compliance – provided by RAUMEDIC.
THERMMOTION TPE tubing is colorless transparent or translucent.
Shore Hardness A (60)
From -55°C (-67°F) to +135°C (275°F): No loss of integrity or deterioration.
Excellent resistance to water: up to 100 °C
Excellent resistance to low-pressure steam up to 135 °C
Solid resistance to weak acids and alkalis
Sterilization possible with gas, steam, gamma or X-rays
Complies with European and American standards
ISO 3826-1 compliant
USP 661 compliant
Biocompatible and ideal for biopharma fluid handling
Fulfills ISO 10993-4 &-5 standards
USP 88 class VI tested
No animal derived materials (BSE/TSE risk-free)
Extractable profile tested by BioPhorum Operations Group (BPOG)
Extractable profile available in validation package
TPE tubing's extractable profile has exceeded regulatory expectations under BPOG-testing
Fluid Handling Performance for Pharma
Tried and trusted by Pharma and Biopharma:
THERMMOTION TPE-based tubing for fluid handling operations
RAUMEDIC THERMMOTION TPE tubing has been uniquely designed to serve all industrial pharma fluid handling operations. Long pump life, exact flow rates and high accuracy are crucial. Thus, pumping longevity, precise flow rates, and exceptional accuracy are accounted for in the selection of materials, custom-fit development, and the manufacturing process in ISO7 clean rooms.
With excellent and verified testing results, THERMMOTION TPE fluid handling tubing has set new standards in the class of thermoplastic elastomer-based tubing. With state-of-the-art flexibility, resilience, and durability in mind, it is manufactured for high performance and users' peace of mind.
If you want to find out more about functionality test results that exceed industry expectations, please request our validation package for THERMMOTION TPE pharma fluid handling tubing for pharmaceutical and biopharmaceutical applications.
Reliable Results: Pressure Tested & Approved
ISO 1402-tested under ambient conditions for non-sterile and sterilized tubes.
Extended pumping lifespan
Long pumping lifetime when used with peristaltic roller pumps.
Enhanced Flow Rates
With reliable flow rates, shorter processing times save time and money.
Product availability and supply
Benefit from a supplier with a tried and trusted multiple sourcing strategy for our TPE compound (SRT629) used for manufacturing reliable thermoplastic pharma tubing.
RAUMEDIC relies on a vast and reliable network of suppliers to ensure the highest possible degree of security of supply.
Flexibility and reliability for customers worldwide
Short delivery times
Geographically diversified manufacturing sites (EU & USA)
Expertise in polymer tubing specialist with more than 70 years of experience.
Practice of long-standing partnerships with material suppliers and tubing customers
Multisource strategy for a secure supply
Strategic: History of long-term partnerships and contracts with suppliers
Diversified: Highly diversified supply chain
Global: Worldwide network for tubing storage and distribution
Batch traceability
Traceability of all ingredients every process step
Tracing always possible
Culture of transparency and accountability
Serving Pharma - RAUMEDIC as a trusted industry partner.
With a global presence spanning five production sites across three countries, RAUMEDIC, as a family-owned corporation, prioritizes enduring connections with both suppliers and customers. Our commitment to collaboration and partnership, together with the industries we serve, has earned us the trust supplier of pharma tubing in the pharmaceutical and biopharmaceutical sectors for about 40 years.
In stock and ready to ship
THERMMOTION TPE pharma fluid handling tubing in standard dimensions
As a tubing specialist, RAUMEDIC offers TPE pharma tubing in standardized dimensions readily available in stock.
Our standard-sized tubing cover the market's commonly requested tubing dimensions for pharma fluid handling and bioprocessing tubing. Further dimensions maybe offered upon request.
TPE tubing is available unprinted, with a RAUMEDIC brand-printing - or a customized printing.
TPE pharma tubing in stock
Dimensions in inches: 1/8" x 1/4" (ID x OD) to 3/4" x 1 1/8" (ID x OD)
Dimension in centimeters: 3,2 mm x 6,4 mm (ID x OD) to "19,1 mm x 28,6 mm" (ID x OD)
Tubing with color stripe: the color of the stripe depends on the tubing dimension
Further dimensions upon request.
Your TPE tubing printed – how you want.
Unprinted
Standardized Printing
Customized Printing
Take a more detailed look!
Tubing Dimensions, Type and Part Numbers Overview
Dimension
IDxOD
Tolerances
Color stripe
Coil length [m]
Printed / non-printed
Article code
Inner diameter [mm]
Wall thickness [mm]
1/8" x 1/4"
3,2 mm x 6,4 mm
3,10 - 3,30
1,50 - 1,70
Yellow
200
non-printed
062016-800
printed
062016-801
1/4" x 3/8"
6,4 mm x 9,5 mm
6,25 - 6,55
1,50 - 1,70
Orange
125
non-printed
062017-800
printed
062017-801
1/4" x 7/16"
6,4 mm x 11,1 mm
6,25 - 6,55
2,25 - 2,45
Red
100
non-printed
062018-800
printed
062018-801
3/8" x 5/8"
9,5 mm x 15,9 mm
9,35 - 9,65
3,05 - 3,35
White
15
non-printed
062019-022
15
printed
062019-024
50
printed
062019-801
1/2" x 3/4"
12,7 mm x 19,1 mm
12,40 - 12,80
3,05 - 3,35
Grey
15
non-printed
062020-022
15
printed
062020-024
30
printed
062020-801
3/4" x 1"
19,1 mm x 25,4 mm
18,75 - 19,25
3,05 - 3,35
Blue
15
non-printed
062021-022
15
printed
062021-024
20
printed
062021-801
3/4" x 1 1/8"
19,1 mm x 28,6 mm
18,75 - 19,25
4,55 - 5,05
Black
15
non-printed
062022-022
15
printed
062022-024
20
printed
062022-801
Quality Management: ISO 13485 certified quality assurance
Uncompromising high-quality standards
With a legacy as a tubing specialist for more than 70 years, RAUMEDIC has established a reputation for excellence through its dedication to delivering quality products and services to the medical and pharmaceutical industry.

RAUMEDIC has incorporated thorough quality management systems across every stage of its manufacturing processes for TPE pharma tubing.

These systems are specifically engineered to assure quality, traceability, and strict adherence to the most stringent industry standards.

RAUMEDIC provides customers with the assurance of cGMP compliance and a certified commitment to delivering TPE tubing of exceptional quality, ensuring consistent reproducibility from batch to batch.

RAUMEDIC holds certification in accordance with ISO 13485. You can locate the corresponding certificate within our TPE tubing validation guide.
Full Validation Document
To make it as easy as possible for you, we offer you a fully comprehensive validation package.
Package contains:
General properties
Information about shelf life and storage
Material Compliance
Full Test Results
Documentation and Certificates
Don't hesitate to contact us, we will be pleased to serve you.
Further reasons for relying on RAUMEDIC as your supplier for TPE pharma tubing
Certified material compliance
Versatility in TPE manufacturing
Biocompatible
Optimized for safety and performance
ISO 7 clean room
Manufactured under clean room conditions
Do you have any questions or want to get our validation package?

Contact us