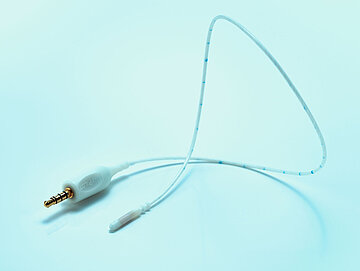 Integration of Electronic Components

Years of Practical Experience in the Field of Active and Passive Medical Products Have Brought Forward New Ideas

Thanks to the continuous development of new technologies we are able to incorporate electronic components such as microchips, storage devices and cameras into catheter systems.
Highest precision and high user-friendliness are always paramount at RAUMEDIC. Together with our customers we develop and manufacture catheters and systems in line with market requirements.
Intelligent Catheters

RAUMEDIC has been integrating electronic components and sensors in its "intelligent catheters" for many years, and has developed its own specialist know-how in the fields of development and manufacture.
A wide variety of functions and applications
Snapshot measurements and simultaneous analysis (blood chemistry, pH measurement, glucose measurement)
Electrostimulation of muscles or tissues
Measurement of cardiac output
(Micro-) catheters with cameras, lasers or other electronic components
Active implants for neurosurgery applications
Due to the very small size of most components and the presence of controllable catheter components in some cases such as movable tips, these intelligent systems allow for minimally invasive interventions and can be navigated to the focus of the disease with great precision.
The integration of a camera in the catheter tip also helps with initial diagnostic imaging. Depending on the model in use, micro-tools can then be used to carry out an immediate intervention, or medication can be administered directly "on-site". Through the use of sensors, radiation therapy can be deployed with exceptional precision, and hence reduce the number of treatments.
Intelligent catheters are of use in clinical diagnosis as well as in therapy, they reduce the time needed for interventions and thereby reduce stress for the patient.
Our facility in Zwönitz specializes in sensor technology and in the manufacture of these complex catheters with electronic components. The production techniques in use include bonding, soldering, and various tests, for example tensile and material tests. Thanks to our microscope workstations, we can even work with very small components.
High-Tech Solutions

One example of our know-how is a probe that is used in oncology for locating and treating prostate cancer. The micro cables are introduced into the polyurethane tube. A connection is made with an electronic component at the application end and with a plug at the equipment end.
A number of different production techniques are used here, for example, crimping and soldering. The electronic components are then coated.
The tumour tissue can be irradiated more rapidly and accurately in the final application through the connection of one catheter with these electronic components.
Central to this are both, the minimization of patient stress and a more effective and thus more economic use of the radiation unit.
The RAUMEDIC CE-certified catheters include other examples of the integration of electronic components. These catheters can be used to make measurements on temperature, pressure and oxygen.
You can find more information on these catheters under clinical applications and practice.
Need support? We're glad to help.

Get in touch