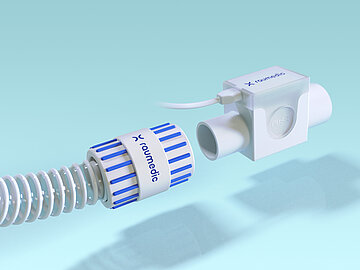 Universal application

The Stand Alone Smart Connector

Diagnosis, prevention, data collection and analysis: smart solutions are playing an increasingly important role in all fields of application. The Smart Connector allows data and parameters to be reliably read out, saved and forwarded directly in the tubing itself.
The requirements
A reliable, high-performance and affordable component that allows diverse parameters, such as temperature, to be directly read out from the medical tubing.
The solution
The universally applicable Smart Connector. This connector can be plugged into any medical tubing system as a secure coupling and increases the functionality of the tubing system many times over. Easy to use and cost-effective.
The stand-alone solution can read out diverse parameters, save them in the measuring device, and forward them via an integrated interface. This is combined with visual effects.
For instance, in ventilator systems: a message with the recorded data alerts the user if the temperature of the ventilated air rises to health-threatening levels, the tubing elements need to be changed, or the connector is not connected correctly. By increasing safety, reliability and user-friendliness, the Smart Connector qualifies for use in hospitals as well as in the home care sector.
The Smart Connector is based on a simple, two-piece plug-and-play component that can be easily inserted into and removed from the tubing system at any time. Its upper and lower parts recognize each other, thus providing counterfeit protection and an assurance for the user that it is a RAUMEDIC original.
Our system was designed according to the motto "Reusable and Disposable". The upper part, the actual data reader, can be reused several times over, thanks to its sustainable product design. Only the lower part, which comes into contact with liquids or ventilated air, is intended for disposal. This saves costs and helps protect the environment.
The advantages at a glance:
The Smart Connector allows the addition of a wide range of functions to your tubing system
The measuring unit on the top can be reused several times over, thus saving costs
Plug-and-play installation allows fast and easy replacement of the connecting piece on the bottom
A visual status log of various measurement values in real time
Measurements and device data can be saved directly in the measuring unit
Digital data exchange via integrated interface
Consistent further development: The Smart Flow Connector
The Smart Flow Connector is an upgrade from an earlier product and was designed for use in clinics and also in particular for home care. The idea for the connector was born out of the "Kickbox Initiative", an internal RAUMEDIC innovation project.
Our employees succeeded in expanding the functionalities of the Smart Connector to include parameters that contribute to patient safety. Flow rate measurement and bubble detection are its two key features allowing the specific delivery of drugs in individual doses, large and small.
You've got ideas? You've got questions?

Get in touch!