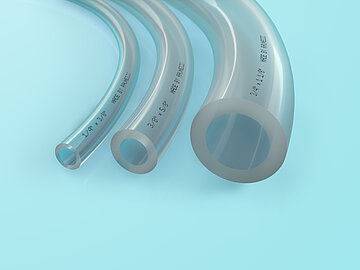 Wide variation for medical applications

Silicone extrusion

With silicone extrusion, we turn customer wishes into reality. Even when other materials reach their limits. We manufacture extruded silicone tubing in various degrees of hardness. On request with individual coloring, color stripes, X-ray contrast stripes, or full contrast.

We implement customized tolerances to best match the product to the subsequent application. We supply silicone tubing in bundles or in cut lengths. The latest technologies allow us to offer this wide variation.
Excellent material properties
In addition to its good temperature and aging resistance, silicone withstands extreme mechanical stress. The high degree of purity makes the material particularly suitable as an implant and for use in biotechnology. Due to its high resilience, silicone tubing is particularly suitable for use as pump tubing.
Large product range in all dimensions
Our range of silicone products is comprised of a number of different tubing types with various dimensions. For example, we manufacture multi-lumen tubing or tubing with X-ray contrast stripes according to individual requirements.
The range extends from filigree tubing with an outer diameter well below 1 mm to large-lumen tubing with an inner diameter of 25 mm and wall thicknesses of up to 5 mm. We also offer to manufacture reinforced silicone tubing for pressure applications.
The products are then packed into double PE bags to prepare them for later insertion into the clean room. We are also happy to make individual adjustments in this step to realize specific customer requirements.
In the final steps, there is the possibility of surface treatment with the patented "low-tack" process: This allows us to achieve reduced surface stickiness and apply individual printing with inkjet or printing roller.
Need support? We're glad to help.

Get in touch