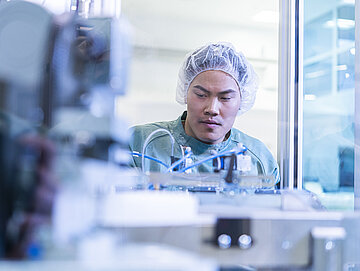 Multi-specialist in manufacturing

We produce medical progress

We at RAUMEDIC are the right partner for forward-looking medical technology products and systems. We specialize in thermoplastic materials and silicones. Our core competence is a variety of manufacturing technologies under cleanroom conditions.
Uncomplicated partner for complex tasks
We support our customers where they need us. More than 70 years of experience make us a sought-after partner and problem solver. Our manufacturing processes have been validated and are guaranteed through application of statistical methods. Specializing in extrusion, precision injection molding, and assembly, we are proficient in the full range of manufacturing processes. We combine our skills to create meaningful synergies and completely feasible assemblies. Uncomplicated, flexible, cost-efficient. Our qualified and highly motivated employees produce system solutions using state-of-the-art production equipment under cleanroom conditions (ISO class 7).
A variety of product solutions
From tubing, through molded parts, to complex assemblies
"Our production sets standards. Our versatile process expertise is in demand right at the start of a development process. This is because we go to the limits of what is feasible from the manufacturing point of view. For our customers, this means a close partnership, from the concept to the series production, and maximum efficiency in the value chain. For our production employees, it means being part of something big. Each in their own area of expertise. Together we are an unbeatable team. Because we understand how to simplify the complex requirements and turn them into strong solutions."
Jürgen Küspert,
Plant Manager Helmbrechts
From single-lumen tubing or microtubes to multifunction tubing:
Sophisticated system solutions with extrusion expertise
Whether microtubing or multilayer extrusion: We combine our experience in various extrusion techniques to create individual product solutions. We develop and manufacture sophisticated tubing solutions for every individual application. Whether single-lumen tubing, microtubes, or multilayer tubing for diverse medical applications. In doing so, we draw on knowledge from our own laboratory and our in-house compounding facility, among other things.
Catheter, cannula, or components with minimum dimensions:
High-precision molded parts produced by injection molding
Minimum dimensions, tightest tolerances, and highest functional demands: We use injection molding to produce high-precision molded parts such as catheters, cannulas, or components with minimum dimensions from silicone and thermoplastic materials. In doing so, we match the injection-molded part design to cost-effective production methods.
The right assembly service for every requirement:
From manual to fully automatic assembly
We make top quality and maximum flexibility into real competitive advantages for our customers. Our know-how ranges from manual to fully automated assembly. We understand the most diverse requirements of highly specialized design services. Do not hesitate to get in touch!
Future-proof orientation of production
Processes are becoming more and more complex, and the requirements of our customers are increasing. As a reliable partner, we work consistently to improve our technologies and competencies.
We are constantly investing in the digitalization and diversification of systems engineering and the expansion of LEAN methods for even more efficient value-added processes. The safety and quality of our products are always in the foreground.
Need support? We're glad to help.

Get in touch