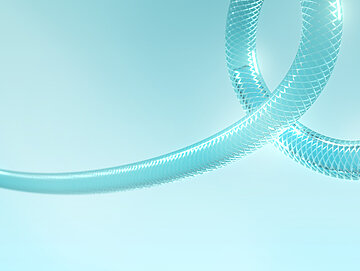 Designed for high-pressure applications

Medical high-pressure tubing

In angiography, blood vessels are made visible by means of X-rays (CT) or magnetic resonance (MRI).

To identify even the smallest ramifications of the blood vessels, a contrast agent is required which is injected into the body with high pressure via the tubes. During the application, the high-pressure tubing must withstand the forceful injection reliably, while remaining kink-free and flexible. This is the only way to safely diagnose pathological changes such as circulatory disorders and vascular occlusions.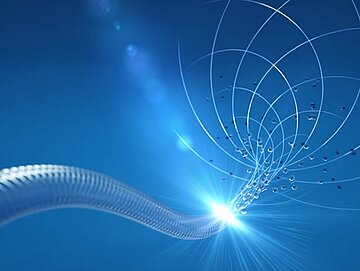 We know that when it comes to the well-being of the patient, cleanliness is key.
Let the facts speak for themselves: For our high-pressure tubing, we only use raw materials according to the LAL standard. The coreless extrusion process in class 7 cleanroom facilities results in an absence of particles according to the standard USP-788.
Braided high-pressure tubing

Thanks to their extraordinary flexibility and pressure-resistance, our braided tubes are the first choice for angiography.
In a highly developed manufacturing process, a polyester monofilament is embedded in a transparent polyurethane tubing.
Coextruded high-pressure tubing

Coextruded high-pressure tubing is in demand in medical technology when a more transparent configuration or cost-effective alternative to braid reinforced tubing is needed. Thanks to the reinforcement-free design, the coextruded high-pressure tubing offers excellent transparency and ideal conditions for the use of flow sensors and air bubble detectors.
Quickly available: Standard high-pressure tubing

No development time is required for the following variants, so that these configurations are quickly available.
Standard configurations
Monofilament-braided
Coextruded Flexible
Coextruded Standard
Dimensions*
0.071'' x 0.142''
(1.80 x 3.60 mm)
0.071'' x 0.146''
(1.80 x 3.70 mm)
0.071'' x 0.142''
(1.80 x 3.60 mm)
0.071'' x 0.142''
(1.80 x 3.60 mm)
Material
PUR
PA / PUR
PA / PUR
Braiding filament
PET
-
-
Pressure resistance**
> 83 bar
(1,200 psi)
> 83 bar
(1,200 psi)
> 83 bar
(1,200 psi)
Flexibility
+++
++
+
Options
Spool or cut length
Spool or cut length
Spool or cut length
*Inner diameter x outer diameter
**Based on DIN EN ISO 1402 or ASTM D1599
Customized high-pressure tubing

No matter the medical application, no matter your needs – RAUMEDIC is at your side as a trusted development partner, every step of the way to the perfect high-pressure tube. During product development, you can choose between the following parameters, and more:
Dimension
Manufacturing Process
Transparency
Braiding
Color
Option
Do you need a complete tube set?

No problem! In addition to extrusion, we have many years of experience with injection molding and the assembly of complete groups of components. Not only do we manufacture customized molded parts such as connectors, we can also fix them directly onto your high-pressure tubing.
Need support? We're glad to help.

Get in touch