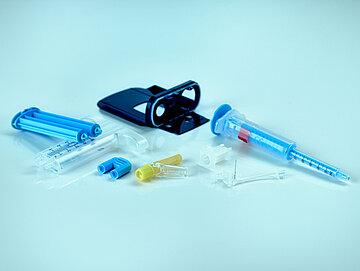 For precise medical technology applications

Thermoplastic injection molding

In precision injection molding, we at RAUMEDIC implement the smallest dimensions and tightest tolerances for the highest functional requirements: From machine-produced molded parts to fully assembled, individually packaged, sterilized and certified medical products.

The manufacturing process is carried out under clean room conditions using modern injection molding machines. The construction of prototypes of various kinds as well as small series from original materials are possible.

Our production processes are validated and secured by statistical methods.
What we offer:
Wide range of materials: all thermoplastics and thermoplastic elastomers up to high-temperature thermoplastics
Part weights from 0.004 g to 300 g
Customized test and inspection procedures
Qualification and validation of tools and processes according to customer specifications
Sterilization according to customer specification and depending on material specifications
Clean room ISO 14644, ISO class 7 (=10.000)
Quality management system according to ISO EN 13485
Production of primary packaging according to DIN EN ISO 15378
Cassette for pump application
Molded-on catheter head for insulin therapy
Need support? We're glad to help.

Get in touch