Back to news overview
Tallinn, Estonia
19/07/2022
RAUMEDIC ESTONIA AS – New Raumedic site in Estonia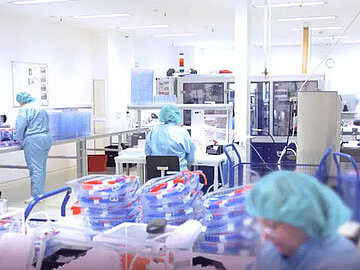 Tallinn, Estonia – A&G AS, based in the Estonian capital of Tallinn, has been part of the Raumedic group of companies since 2021. It has now been officially renamed as "RAUMEDIC ESTONIA AS", making the company openly recognizable as part of Raumedic. At its production site, it specializes primarily in manual assembly.
A&G AS joined the Raumedic Group in August 2021. The company specializes in assembly in the field of medical technology and is equipped with corresponding cleanroom production space. Since July 11, 2022, the company is named "RAUMEDIC ESTONIA AS", and will now carry out production under this new name for prominent customers in the medical industry – as one of a total of five Raumedic production sites worldwide.
"Integrating the new employees into our Raumedic family went very well right from the start. We are pleased that this process of integrating the company has now been successfully completed with the new name," says Michael Keller, Managing Director at RAUMEDIC ESTONIA AS. "Our team in Tallinn is highly motivated to accompany the growth and expansion of the production program at Raumedic. The existing know-how will help establish an efficient assembly site."
About Raumedic
The Raumedic Group places people's health at the center of its business activities. The company processes medical-grade thermoplastic polymers and silicones at its five production plants in Germany and the United States. Raumedic is a company with more 70 years for experience in extrusion, injection molding and assembly and about 1,000 employees worldwide. It turns customer ideas into real products. Working as a partner of the international medical-technology and pharmaceutical industry, the polymer specialist develops and produces customer-specific components like tubing, catheters and molded parts as well as complex component groups and systems used to make diagnoses and provide therapy. Raumedic makes highly precise pressure-measuring systems with microchip technology for the specialized clinical fields neuromonitoring and traumatology.