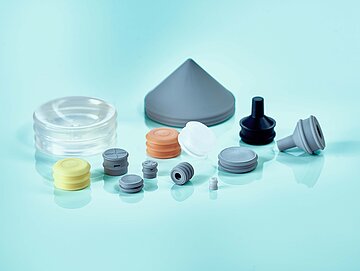 Customized silicone syringe plungers by Raumedic

Syringes are used in all medical fields. From anesthesia to the injection of vital drugs, syringes contribute to patient recovery or maintaining health.

Due to its wide range of possible applications, it is not only a requirement, but also an obligation for syringe manufacturers to provide for maximum patient safety and hence human health.

In this regard, elastomer gaskets like syringe plungers play a crucial role as they ensure that drugs or nutrient infusions are introduced into the human body in the optimal dosage.
The challenge when choosing a suitable material for syringe plungers
The plungers must fulfill a variety of requirements and characteristics however.
Specific break-loose and glide force
Minimum quantity of particles
Optimum leak tightness
Low number of extractables
Microbiological purity and sterility
At this point, the right plunger material needs to be chosen.
Which characteristics should a syringe plunger provide to be applicable in healthcare? What material has the highest rate of biocompatibility for patients? Where do you, as a manufacturer, have the best options for realizing your own ideas and concepts, and what is the most cost-efficient solution considering long-term profitability?
Imagine that you could accompany the whole development process and determine the design of your product entirely on your own.
The optimal material to produce syringe plungers
When choosing the basic material that is to be used, patient safety comes first. Several basic requirements therefore need to be considered before taking the decision on the optimum material for the syringe plungers.
To assure financial profitability, a reliable functionality of the product as well as economic feasibility in the manufacturing process are important factors.
It goes without saying that the material chosen should not release any chemical substances during future clinical usage. These so-called extractables must be as far as possible as they could pass into the patient's bloodstream or negatively influence the formulation of the drug.
In view of these requirements, you as a manufacturer will certainly do some research and scrutinize every option for its suitability before opting for the appropriate material.
Freedom of design and shape
Silicone is definitely not a product off-the-rack. Silicone allows you to determine the appearance of the syringe plunger for your final product yourself.

Thanks to its flexibility, the material permits to meet nearly all specifications and requirements with regard to size and shape. Especially when expensive drugs have to be administered in exact dosages, every single drop is precious. In close collaboration with our customers, we develop the optimum design so that every plunger perfectly fits the syringe it will be used in.
Small number of extractables
The release of chemical substances from the material used should of course be avoided. These so-called extractables could have a negative impact on the formulation of the drug, or trigger undesirable physical reactions in the patient's body.
As silicone contains less additives in comparison to other materials, significantly less extractables are being released, which is beneficial for the patient's safety and health.
A relatively low number of potential extractables also involves a low number of potential leachables which is the desired goal particularly in further pharmaceutical processing. The use of silicone can help to minimize the formation of leachables, thereby preventing undesirable interactions with the drug. Thus, the patient is protected and consequential costs are reduced, too, as contaminated drugs can induce customer complaints.
Reduction of silicone oil
Syringe manufacturers often use silicone oil to adjust the sliding friction of the plunger to the viscosity of the respective drug. Your specific requirements are essentially important to us.
Already in the development phase of the silicone plunger, the individual properties of the drug to be administered can be considered. Customized product solutions can therefore reduce the amount of silicone oil used.
Using silicone for syringe plungers

Silicone is an excellent choice. When used as the basic material for syringe plungers, it not only assures the exact dosage and integrity with regard to the drug, but also allows for customized product configurations and designs.
Both its physical and mechanical properties as well as the high chemical purity of its composition are the decisive arguments to use silicone.
Your silicone syringe plungers by Raumedic

Your silicone syringe plungers by Raumedic: They are unique, customized and no bulk goods, but high-quality individual components instead. With our silicone plungers, you are on the safe side as we can offer you the following advantages: a stable formulation and assistance with an approval process that is, in most cases, cost-intensive. Benefit from these and other advantages when working with us:
Clean room production as per ISO 14644 class 7
Patients' health is always the highest priority.
Raumedic syringe plungers are produced under class 7 clean room conditions to ensure extremely high safety standards.
Less additives than with alternative materials; featuring a constant composition and high-quality raw materials
For manufacturing our elastomer plungers made of silicone, we utilize in most cases less additives than would be necessary if they were made of rubber.
Benefit from an unvarying formulation made of consistently high-quality raw materials. Your advantages: Constant quality and straightforward processes from one single source.
Specific break-loose and glide forces thanks to Raumedic silicone blend
We have developed a unique Raumedic silicone blend which, thanks to the material's specific break-loose and gliding forces, eliminates the need for silicone oil to the greatest possible extent.
A high break-loose force makes it harder for physicians to administer an exact, fine dosage during drug injection. Furthermore, it is convenient for medical professionals when the glide force of the syringe plunger remains constant when it is pressed all the way down the siliconized syringe body and no stick-slip effects occur.
Hence, silicone oil is frequently used in the manufacture of syringes to facilitate drug injection, This, however, bears the risk of the silicone oil entering the patient's bloodstream via the drug.
Less hurdles during product approval thanks to FDA Master File registration
Developing a good medical product is one thing – bringing it to market is another. Cumbersome approval processes and complicated clearance procedures often hamper the production of new medical products.
To facilitate these procedures for you, we have had our special silicone composition registered as a Master File. This registration with the U.S. Food and Drug Administration (FDA) enables internationally active medical devices manufacturers to have their products approved easier and more rapidly.
Absolute autonomy for tooling and design
We will provide a customized injection molding tool for your specific component geometry. This tool is then used to mold syringe plungers which are manufactured exclusively for your company.
This absolute freedom of design renders possible that geometric optimizations during the development phase can be carried out.
Consequently you will not only get exactly what you require, without having to make trade-offs and compromises, but you also possess a unique selling point, thus standing out from your competitors.
Personal assistance and advice from one single source
For us, you are not simply one of many customers. On the contrary: According to your requirements and specifications, we manufacture a customized product exclusively for your individual production.
Immediately after your first contact with us, you can discuss your ideas and needs, as well as all the specifications of your desired product personally with your personal RAUMEDIC consultant. In collaboration with you, he will come up with the perfect solution – from the initial idea to the product and process development to industrial manufacturing.
On top of that, the final product can always be re-adapted for your different product groups as required. Whether you want to develop a silicone plunger or a complete syringe or pump system, we are always glad to assist you with our competent expertise arising from several decades of experience in the medical technology sector.
Need support? We're glad to help.

Get in touch!
Got any questions?
We are happy to be here for you.