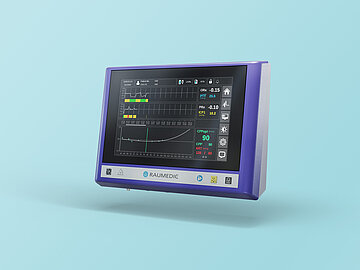 The new generation of neuro­monitoring devices

RAUMED Neuro­Smart


In addition to the proven DATALOGGER products, RAUMEDIC now offers a new generation of neuromonitoring devices: The RAUMED NeuroSmart diagnostic device has been developed for monitoring up to four invasively measured physiological pressures and up to two temperatures. In addition to recording these vital parameters, the RAUMED NeuroSmart can also be used for long-term storage of the measured values.
The RAUMEDIC NeuroSmart enables visualization and storage of intracranial pressure (ICP), intracranial temperature (ICT) and telemetric ICP measurement (ICPT). It is also ideal for calculating the pressure reactivity index (PRx), oxygen reactivity index (ORx), and optimal cerebral perfusion pressure (CPPopt).
The large touchscreen displays the measured values clearly and in individually adjustable colors. In the individual screen modes, curve and trend graphs can be displayed and scaled in a variety of ways.
Devices in the NeuroSmart series also have a large data memory with up to 10 days of storage and two USB interfaces (USB stick and PC connection). Screenshots can be saved directly via a USB stick.
Clinical advantages

Both cable and telemetric ICP measurement possible
Display of ICP, ICT, ptiO2, arterial pressure (ART), central venous pressure (CVP), amplitudes
Acoustic and visual alarms selectable via menu
Battery or mains operation
Mobile use possible
Can be connected to patient monitor
Attaches to stand by means of integrated holder
Users of the ICM+ software also benefit from direct PC transfer of the parameters captured with the RAUMED NeuroSmart / logO.
RAUMED NeuroSmart

RAUMED NeuroSmart for data collection and storage of wired ICP and ICT measurement and telemetric ICP measurement.
RAUMED NeuroSmart logO

RAUMED NeuroSmart logO for data collection and storage of oxygen partial pressure, temperature as well as wired and telemetric ICP measurement.
Do you have questions about the product? We would be happy to speak with you.

We are here for you.