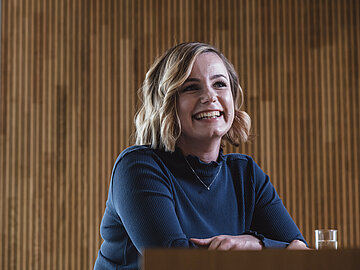 Your application at RAUMEDIC

RAUMEDIC – Your New Employer? Tips for Your Application


Each of our applicants has her/his own individual talents and qualifications. This is what we appreciate very much, since the projects and day-to-day work processes at RAUMEDIC are manifold and require a diversity of talents. Your substantial and informative application will enable us to assess what you expect from the job and whether you are a good fit for us.
What we expect
Reliable and long-term cooperation
Good performance
Communication skills and team orientation
Personal skills and competences
Identification with our company
Entrepreneurial thinking and action
Decisiveness and initiative
Flexibility and mobility
Customer orientation
How to apply correctly
Ideally you should apply electronically. Please do not send us single documents, but rather combine all information into one PDF.
Alternatively, you can send us your application documents by mail.
Please check that your contact information submitted is up-to-date, so that we can contact you by telephone or e-mail.
Your cover letter should inform us why you would like to work for RAUMEDIC, what you expect from your new employer and why you should be the right person for the position advertised.
Your CV should also show your experience and qualifications that distinguish you for the position you are applying for.
Your application should characterize you as a special person.
Please attach all applicable documents that can prove your experience: all employment references and documentations of internships, additional qualifications, language courses, etc.
In order to make a good impression you should meet the formal criteria of professional correspondence, such as completeness, accuracy, and compliance with standards.
What should I know about the application process?
Once you have applied with us, your documents will be stored in our application management system.
Soon afterwards you will get a confirmation of receipt – an automatically created confirmation in case of an online application.
Your application will be forwarded directly to the responsible person in Human Resources. If you have applied for a particular post advertised, this person will review whether your qualifications meet our requirement profile for the job. For unsolicited applications we carefully examine your documents and check what position might suit you.
If your application has made a positive impression, it will be forwarded to the respective department, where our specialists will assess your qualifications.
On the basis of all information available, we will decide whether we want to know more about you in a personal interview. This pre-selection process generally takes two to four weeks. Within this period, we will inform you, without being asked, whether you have made it into the first round of interviews.
In the first interview we will get to know each other. A representative of the Human Resources and of the specialist department, usually the line manager, will give you detailed information about the position and its environment. Of course, we are very interested to see how you present yourself! Please be advised that it would be helfpul, if you have already gathered some information about RAUMEDIC so that you can convince us of your genuine interest in the job you are applying for. Our website provides all kinds of data, facts and information. We would gladly answer your questions in a personal conversation.
If you were able to make a convincing professional and personal impression in the first interview and if we think you are a good fit for RAUMEDIC, we will invite you to one or more interviews that go into more depth. In addition to the Human Resources representative and the direct line manager, other managers or employees of the specialist department will participate in these interviews. In some job fields we offer a trial work period of several days, so we can get more detailed information about each other.
Throughout the entire application process you will have the same contact person, who will, in cooperation with the management of the department in question, spend a lot of time for introducing you to the company.
When you have passed all interviews with a positive result, and after the formal details of the agreement have been discussed, nothing can prevent you from starting to work with us!
Can I also submit an unsolicited application?
You didn't find an appropriate job advertisement on our job portal that suits you? And you think that we should get to know each other? Then you should make use of our online application form for unsolicited applications. We are looking forward to hearing from you!
What is the best way for me to travel to the interview?
We will include directions in our letter of invitation for an interview, so you will know where to find us. Please note that our Helmbrechts location cannot be reached by public transportation. If you are traveling by train, we recommend to choose Münchberg as your final stop. From there you can take a taxi to RAUMEDIC in Helmbrechts.
Münchberg taxi companies
Reinhard Müller
Phone 09251/ 92121
Flieder Reisen
Phone 09251/ 92133
Klaus Hartbauer Taxiunternehmen
Phone 09251/ 80221
Current Vacancies

You will find all current vacancies at RAUMEDIC AG on our online job portal.