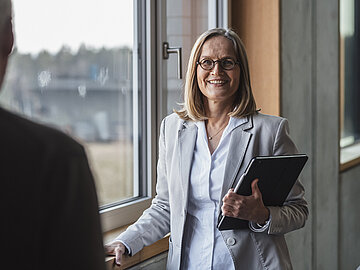 Are you ready for a new challenge?

RAUMEDIC – a Challenging Committed Career Partner


You know exactly what to expect from your new employer. That includes security, long-term prospects, individual support and trust. Moreover, you would like to advance your professional skills? Then RAUMEDIC as an innovative employer with attractive career prospects might be the right choice!
At RAUMEDIC you will work in an open and dynamic environment that offers attractive opportunities for development and plenty of room for innovative ideas. You will be a good fit for us, if you have strong communication skills, enjoy new challenges, and quickly adapt to new situations. We appreciate employees who identify with RAUMEDIC as an employer and who work independently, conscientiously, and in a result-oriented manner.
As a company in the medical and pharmaceutical industry we employ people with all sorts of professional and personal backgrounds and qualifications. That includes skilled technicians as well as career changers and managers. Would you also want to contribute to our success and play a role either in production, purchasing, sales, marketing, or research & development? Then we are looking forward to talking to you about your very individual future at RAUMEDIC.
"What I especially like about my work is that it benefits people's health. I also appreciate the reliable cooperation, the excellent opportunities for career advancement, and my crisis-proof workplace."
Erol Yörükoglu, Production Employee
"RAUMEDIC is the perfect employer for me, because I can use and further develop my professional and managerial experience optimally in an international environment!"
Beate Sgonina, Area Sales Manager Asia Pacific
We are looking for flexible and committed employees

In medical engineering and the pharmaceutical industry, reliability, precision, and material quality go hand in hand with human health, more than in any other industry. This is why we need talented and conscientious employees who are always willing to obtain further qualifications and show great commitment at their day-to-day work.
Occupational groups
Engineering
(plastics engineering/medical engineering/materials and surface engineering/materials sciences/industrial engineering/process engineering/manufacturing technology/mechanical engineering/industrial management)
Economics
(business administration/international management)
Natural sciences
chemistry/physics/biology)
Information technology
(computer science/business informatics/software engineering)
Industrial technical occupations for the areas of clean room production, logistics, technology, and quality assurance
Skilled personnel with appropriate professional education and/or further education in plastics technology
"I am very happy that RAUMEDIC has given me the chance to pursue a completely new professional path providing additional training as a process engineer for plastics and rubber technology."
Henning Strunz, Process Engineer
Next to skilled workers with appropriate professional training and/or further education in plastics technology we are constantly looking for personnel who like learning to work in new areas of responsibility.
Fields of activity
We are always looking for employees for all sections within the company, especially the development, product management, marketing, sales, production and quality management departments.
In the industrial technical section our employees cover the fields of: clean room production, logistics, engineering, and quality assurance.
Your start in the production department

In medical technology production, you can expect an exciting range of tasks and a well-coordinated team. We face challenges together and manufacture innovative products that improve the lives of people all over the world. Are you a production expert, specialist or career changer? Become part of our team!
Current Vacancies

You will find all current vacancies at RAUMEDIC AG on our online job portal.
Do you have any other questions?

Questions about a vacancy, your application documents, or the application process? Then do not hesitate to contact us!
RAUMEDIC AG
Hermann-Staudinger-Straße 2
95233 Helmbrechts
Phone +49 92 52 359-0