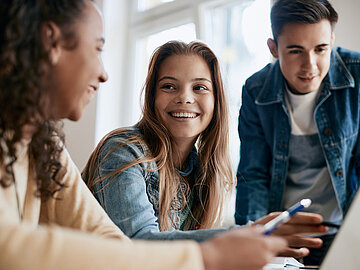 Don't miss the opportunity for a job at RAUMEDIC!

RAUMEDIC – the Best Address for an Exciting Apprenticeship with Excellent Prospects for the Future


Are you interested in an apprenticeship at RAUMEDIC? We would be happy to give you the opportunity to apply for a trial internship! So you might soon get some practical training in the various departments of our company.

Check out our vacancies to learn more about the apprenticeships we offer.
Which profession suits me, RAUMEDIC?
If you are interested in an apprenticeship, you will certainly have questions upon questions. These are exactly the questions we want to answer. And as honestly as we can. That's why we're letting our current trainees have a go at it.
"I especially like the informal working atmosphere at RAUMEDIC. I also appreciate the opportunity to be able to work independently during my apprenticeship."
Julian Krippendorf, mechatronics engineering trainee
Dual course of studies at RAUMEDIC

Studying with RAUMEDIC? No problem! At the end of your dual course of studies you will graduate with a Bachelor's degree, which may represent an exciting alternative to the traditional direct job entry.
The apprenticeships within dual courses which we offer can be seen on our vacancies site.
"Thanks to my professional training at Raumedic I have got the chance to use the theoretical knowledge I gained at the university in the company during my semester break."
Nina Bäuml, Dual Education Program
Vacation work – employment that pays off

Are you still at high school or already in college? Or are you in an interim period before an apprenticeship or course of study? Are you looking for a job over a period of at least four weeks that may also open up prospects for the future?
Then you should apply for diverse employment opportunities in our production and logistics divisions. There you can work full time, primarily in 2 or 3-shift operations, and support us at various tasks within the scope of your abilities and interests.
For a vacation employment you need to be 18 years old. If you are interested, please submit your application documents at least two months before the desired period, consisting of:
Cover letter indicating your desired employment period and preferred job area
CV
School confirmation / enrolment certificate
References
Do you have any other questions?

Questions about a vacancy, your application documents, or the application process? Then do not hesitate to contact us!
Raumedic AG
Hermann-Staudinger-Straße 2
95233 Helmbrechts
Phone +49 92 52 359-0