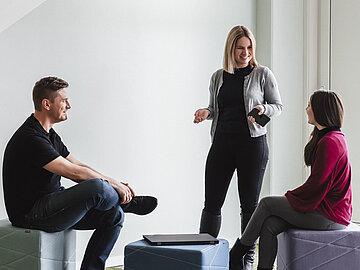 Experience a culture of partnership

We're all about life. Are you?


At Raumedic, we provide you with the necessary freedom to work independently, dare to think outside the box and actively incorporate your ideas.

After all, partnership is an important aspect for us, not only when it comes to business partners. In terms of our employees, this is expressed, among other things, by a secure workplace with several opportunities for personal development, flexible working-time models, or working-time accounts as well as joint events for employees.
A passion for medical technology

There is no doubt that the international medical market's new technologies, but also the country-specific health care systems, will undergo a massive change. Therefore, a career in medical technology creates exciting prospects.
RAUMEDIC offers those who appreciate new development and are passionately committed to their own field of work, attractive career opportunities in a future-oriented industry.
"We manufacture products that help people to become healthy again. What else could be a better motivation than playing a personal role in this process?"
Foued ElAbsi, employee in Production
Precision, because lives are at stake

We help people around the world with our solutions. Because products from Raumedic provide support for various clinical specialized fields in terms of both the diagnosis and therapy. Furthermore, due to the fact that lives are at stake, our working environment is characterized by a high degree of precision. And that is a fundamental aspect, since we are making a significant contribution to safe patient care throughout the entire world.
Are you a team player and want to actively shape the future of medical technology? Is a long-term collaboration equally important for you? Then we should have a chat!
"Everyone pulls together – superiors as well as employees. Own ideas will always be supported, and potential problems are quickly ironed out to ensure a reliable production."
Jürgen Küspert, Plant Manager
Current Vacancies

You will find all current vacancies at Raumedic AG on our online job portal.
Do you have any other questions?

Questions about a vacancy, your application documents, or the application process? Then do not hesitate to contact us!
RAUMEDIC Inc.
235 Broadpointe Drive
Mills River, NC 28759
Phone +1 828 974 0420