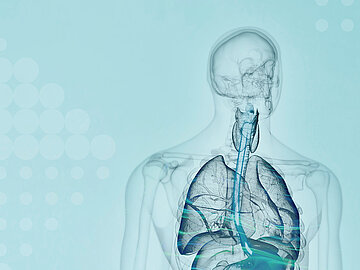 Preservation of vital functions through artificial feeding

Enteral Feeding


When an illness prevents patients from being able to eat on their own, enteral feeding takes on vital function.

Artificial feeding – also known as tube feeding – provides patients who can no longer eat independently with energy, nutrients, vitamins and minerals by means of a stomach or nasal tube.
RAUMEDIC – your experienced partner in enteral feeding
Offering an extensive product portfolio that includes enteral feeding, RAUMEDIC has decades of experience working with medical and pharmaceutical companies around the world. This has given the company the know-how to serve as your ideal development partner in a continuously growing market: Worldwide, cancer as well as intestinal and diabetic illnesses are on the rise. This means demand for tubing made of various materials is also growing. So choose solutions from an experienced partner that enjoys outstanding expertise in materials.
Know-how and experience
From the development of your idea to the market-ready product, you receive everything from a single source. Experienced employees at our in-house chemical department actively test new PVC-free materials, for instance.
Film technology
Individual textural settings in film technology provide bond strength that can be adjusted to meet specific customer needs. Excellent transparency and strong scratch resistance also set these products apart.
Functionality
These products guarantee the lowest possible loss of active ingredients when being used, and dosages can be set very precisely. Products that protect the nutritional solution from light are also available if needed.
Portfolio for administering tube feeding

Learn more about the portfolio for enteral feeding here. Get to know some of the special aspects of product manufacturing and development and see the unique features of each solution for yourself.
PVC tubing for custom requirements
PVC tubing plays a crucial role in feeding sets. When it comes to formulating them, the sky's nearly the limit. The properties of the tubing can be configured to meet your individual specifications.
All soft-PVC compounds are formulated and developed with the requested hardness and flexibility and are manufactured in our own granulation facility specifically designed for medical applications.

The extrusion technology used enables different surface finishes during production. If needed, the PVC tubing can be not only made to feel pleasant to the touch, but also finished with a high-gloss, microrough or matte surface depending on the customer's requirements – for an optimum sense of touch and trouble-free fabrication.

PVC can be glued and welded with all common solvents, thereby making it possible to employ all standard fabrication techniques.

No other material in this range comes close to matching the physical properties of PVC, which can be formulated for all common types of sterilization including ETO, autoclaving and gamma radiation.
Lay-flat tubing: The variable product for bag production
EVA lay-flat tubing is ideally suited for producing bags for enteral feeding.
Lay-flat tubing is available in flat widths between 100 millimeters (4 inches) and 500 millimeters (20 inches) for different bag sizes.

Wall thickness is variably adjustable to between 0.20 millimeter (0.008 inches) and 0.40 millimeter (0.016 inches).

Specially developed manufacturing processes provide the lay-flat tubing with a uniform, transparent and scratch-resistant surface.

The unique design of the inner surface, which features longitudinal ribbing or texture, prevents the bags' interior surfaces from sticking to each other, thereby guaranteeing user-friendly filling of the feeding bags.

Observing very narrow tolerances enables trouble-free processing on modern high-speed assembly lines.
Silicone: The perfect material for feeding pumps
Silicone provides unparalleled resilience and durability in peristaltic pumps, offering many benefits related to enteral feeding.
Any shore hardness between 40 and 60 A can be selected and then tailored to the design and function of your pump application.

The ideal silicone tubing for each specific feeding pump is developed working with the customer.

The silicone tubing can be produced with reduced surface stickiness.

If needed, we can employ our proprietary printing technology for labeling.

Compliance with very narrow manufacturing tolerances offers the best conditions for constant rates of production.
Coextruded tubing for sensitive solutions
To meet specific requirements related to special feeding solutions such as the need for light protection, coextruded tubing offers a perfect option for enteral feeding.
The combination of different materials in one tubing enables a wide range of functionalities in terms of serving as a gas barrier, providing UV protection and addressing assembly specifications.

The layer distribution can be designed to meet specific requirements.

The individual materials are tailored to work together so that delamination can be prevented with proper use.
Polyurethane tubing for feeding tubes
Feeding tubes are used for the artificial feeding of patients. The nutrient solution is placed directly into the stomach via tubing through either the nose (nasal tube) or the abdominal wall (PEG tube). Polyurethane (PUR) is considered to be a tissue-friendly material thanks to its favorable biological-toxicological properties and is free from plasticizers. Tubing made from this material is therefore ideal for feeding tubes.
Single-lumen, multi-lumen and multi-layer tubing geometries are possible

Customized flexibility (shore hardness ranging from 75A to 95A) and sliding properties thanks to the development of customer-specific formulations

Optimal position control of the probe tube through embedded X-ray contrast stripes or barium sulfate additive

Tubing surface can be customized in different variations (high gloss, matte, microrough) depending on the specific application (e.g. for tube-in-tube systems)

Material-dependent sterilization with ethylene oxide (EtO) or gamma radiation

Optimized winding of tubing on spools for trouble-free secondary processing on assembly machines

Seamless secondary processing (glueing, printing, punching, forming)
Assembled feeding tubes
RAUMEDIC is also the right partner for complete solutions. Together with you, a project plan will be created and your customized feeding tube will be jointly implemented until it is ready for market. You can get support in:
Printing on the tube with inkjet, pad printing or laser marking, e.g. to apply a scaling

Attachment of individual connectors by glueing or injection molding using thermoplastic or silicone injection molding processes

Drilling or punching of the tube

Coordinated packaging concept with customer-specific packaging, e.g. in peel bags or hard blister packs

Joint development of a validated sterilization process that incorporates the desired sterilization method
Would you like to know more about our expertise in Enteral Feeding?

Get in touch with us