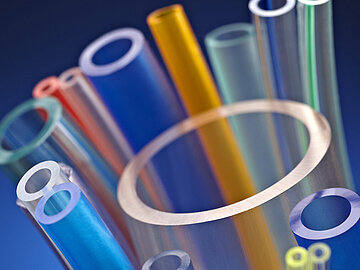 Diverse processing spectrum for medical progress

Single-lumen tubing

We apply a wide range of extrusion processes and material formulations for sophisticated medical technology and pharmaceutical product solutions. This offers our customers a particularly wide range of manufacturing methods and variants.

We specialize in single-lumen tubing and profiles with the tightest tolerances. For more than 70 years, we have been developing the extrusion and processing of thermoplastic materials and silicone rubber. Our technology enables tubing dimensions from 0.1 mm to 50 mm in diameter.

Whether pump tubing, micro tubing, or standard lines: We design each tubing solution according to your specific requirements regarding its material properties, dimensions, and tolerance specifications.
Preparing the Formulation – From Standard Thermoplastic Product to High Performance Material
The material range comprises standard thermoplastic materials such as PVC and polyolefins, technical thermoplastics such as polyamide and polyurethane as well as silicone and high performance materials such as PEEK or PEI.
What we offer:
Highest customization in the production
Variable design of the surface finish, e.g., in matte, micro-rough or high-gloss
Specific dimensions and tolerances upon request
Individual coloring, opaque or transparent, and contrasting settings
Welded double or triple tubing possible, burr-free separable
Form of delivery: wound into rolls or on spools, pre-perforated or in variable cut lengths
Customized packaging solutions
Application examples
Pump tubing for insulin pumps
Micro tubing for catheters
Standardized single-lumen tubing for infusions, dialysis, ECC, and gas supply
Need support? We're glad to help.

Get in touch