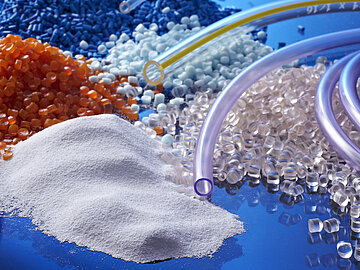 PVC Expertise

A Comprehensive Solution: From the Raw Material to Production

Tradition, Innovation and Quality
Our PVC products are often in direct contact with human cells, tissue or organs. That is why RAUMEDIC only works with fully human-compatible and pure grade materials. These are constantly inspected for their compatibility and interactions.
Since we are aware of our responsibility we are able to ensure the highest degree of product safety.
PVC extrusion since 1948
PVC tubing supplier for the first German heart operation in 1957
Development of the first soft-PVC formulations without phthalate in 1978
In-house compounding of medical-grade PVC
QM system according to ISO 13485
Clean room manufacturing class 7 according to ISO 14644
The grade and suitability of a PVC product for a particular application is largely dependent on the quality of its components. For this reason our formulations use only raw materials with tested chemical, biological, and toxicological properties.
We have decades of experience in the formulation field. We were able to set new standards in the production of in-house compounds through the processing of soft-PVC. The phthalate-free plasticizer noDOP, which in the meantime has become established all over the world, is just one example in this regard.
The New Generation of Soft-PVC

Only few materials allow their properties to be controlled in as many aspects as PVC. As a result, the image of PVC has changed significantly in recent decades. Due to the replacement of critical components and the establishment of recycling systems, the production material has been continuously improved. Existing concerns could be overcome thanks to a continuous development of the material. Today, soft-PVC for the medical use is a modern and safe material.
PVC provides excellent resilience in applications and can be easily combined with other materials. Not only does it allow precise processing, it is also highly cost-efficient. RAUMEDIC relies on the advantages of medical soft-PVC. As a member of the working group PVC and Environment (Arbeitsgemeinschaft PVC und Umwelt – AGPU) we are actively involved in the improvement of PVC's sustainability.
Need support? We're glad to help.

Get in touch