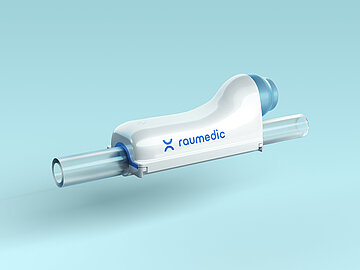 Variable positioning

The Integrated Tube Connector

As a further enhancement of our Smart Connector, we custom-designed the Integrated Tube Connector to measure parameters and record data at various points along a medical tube.
The requirement

A device that can read out data and parameters at specific points along a tubing system. Intelligent connectors that can be installed in tubes, but not necessarily at the beginning or end of a tubing segment.
The solution

The Integrated Tube Connector. It can be positioned during production to read parameters and data at particular points along the tubing as required. Raumedic has designed a patented sensor system that can be scaled to different tube dimensions specifically for this purpose.
In ECMO, for example, the Tube Connector allows the tubing system to be extended to include temperature and pressure sensors that can be positioned as required, while at the same time ensuring permanently leak-proof connections and long-term reliability. To ensure that the technology and material provide a secure and highly functional connection, we have designed a patented sensor system that can be scaled to different tubing dimensions. Regardless of the type of tubing or material, the sensor reads out diverse parameter data during application and makes it available via the integrated serial interface.
The Integrated Tube Connector can be customized to offer additional sensory functions and interfaces. This makes the Integrated Tube Connector particularly interesting for a wide range of other highly sensitive technological medical applications.
The advantages at a glance:

Expands the functionality of the tubing system
Reads out a wide range of parameters: Pressure, flow rate, temperature, PH value
Allows variable positioning during production
Integrated interface for secure data transfer
Patented sensor design that can be scaled to diverse tubing dimensions
You've got ideas? You've got questions?

Get in touch!