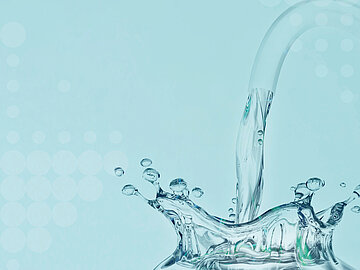 Tubing and tubing systems for pharmaceutical applications

Pharma Fluid Handling


Strict regulations apply to pharmaceutical manufacturing. Rely on an experienced partner for fluid handling.

Fluid handling is a sub-area of the pharmaceutical industry. This segment includes solutions for the transport of liquid drugs – from cough syrup to complex active pharmaceutical ingredients (APIs) such as vaccines or specific medications for cancer treatment. Products in the fluid-handling segment are used in the biotechnology, pharmaceutical and medical markets, all highly regulated environments.
Raumedic – your experienced partner in Pharma Fluid Handling
Discover a range of products for use in a highly regulated environment. Pharma Fluid Handling solutions are directly tailored to meet individual customer needs and include the necessary documentation. To better meet customer requirements, Raumedic has been closely cooperating with Sartorius since 2011. Customers can benefit from both a high level of know-how in the development, processing and packaging of polymer materials and expertise in the design, manufacturing and validation of single-use systems for biopharmaceutical applications from Sartorius.
Quality management
In the pharmaceutical industry, a comprehensive and expertly implemented quality management system is indispensable. Standardized processes contribute to consistently high product quality. These processes are regularly checked and continuously improved.
Custom development
Customer-specific options and individual products: You determine the ideal solution for your needs. Even multi-year development periods do not pose a problem. Ultimately, only a perfect outcome for the customer matters.
It's all from a single source
You receive everything from a single source: From development work on your individual product, to specific formulations, through to production and follow-up service. You'll benefit from having one contact for all of your needs.
The Raumedic portfolio for the pharmaceutical industry

Learn more about the portfolio for Pharma Fluid Handling. Get to know some of the special aspects of product manufacturing and development and see the unique features of each solution for yourself.
Platinum-cured silicone tubing

The product can be made to meet customer-specific requirements. If bespoke manufacturing is not required, customers can also order the solutions in standard versions. These benefits and properties set platinum-cured silicone tubing apart:
The product has particularly low extractables values; this means hardly any measurable extractable or volatile components.
It offers comprehensive validation documentation, including an extractables guide that meets the strict requirements of the pharmaceutical industry.
Long-term supply reliability and a secure supply chain, with seven standard sizes stocked at the Sartorius warehouse.
The alternative solution to silicone: TPE tubing

The TPE tubing series was jointly developed with Sartorius and now represents the new benchmark for cell growth rates. The product can be heat-sealed and welded to maintain sterile conditions and is available in seven different standard dimensions. A coextruded color strip (color coding) differentiates the sizes. TPE tubing offers the following benefits and properties:
Color coding, or production in different color variants, guarantees accuracy and application safety during assembly processes.
The antioxidant content in the tubing formulation is optimized for the best cell growth rates. Cell growth is not inhibited, even with the most unfavorable surface-to-volume ratio or in small-scale applications.
The product is co-weldable with many commercially available TPE tubes.
Would you like to know more about our expertise in Pharma Fluid Handling?

Get in touch