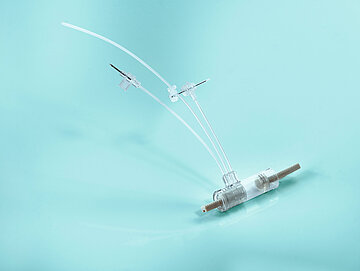 Bonding and welding

Reliable bonding is essential for medical and pharmaceutical products. Influencing factors such as sterilization processes must be considered, as are requirements of the final application, such as the flow medium.
Depending on the materials to be bonded, our experts select the ideal method to suit your application:
UV-bonding
Instant bonding
Diffusion bonding
Silicone bonding
Two-component bonding
Ultrasonic welding
High-frequency welding
Laser welding
Our processes offer numerous possibilities for bonding and welding common thermoplastics and silicones, as well as metals, glass and ceramics. Moreover, various surface treatments are available in case of thermoplastics that are difficult to bond. We analyze the bonding results extensively in our own testing laboratory. Depending on your requirements this may include, for example, tensile strength, tightness, or flow tests.
Examples of our reliable bonding connections:
Diffusion bonding is used for this PVC tubing and drainage pad to achieve the strongest connection possible.
For the fluidic channel of a patch pump, UV adhesive was used to bond the steel cannula, slider and PA tubing components together.
RAUMEDIC silicone adhesive is used to attach cuffs to a silicone catheter for peritoneal dialysis.
The silicone adhesive developed by RAUMEDIC is also suitable for bonding implantable products.
Vacuum cushion for a tubing set produced by means of high-frequency welding.
Need support? We're glad to help.

Get in touch